"Be careful 007 it's just had a new coat of paint." So says Q, as he hands over the keys to this Aston Martin V8 in 1987's The Living Daylights.
Bond, of course, pays his quartermaster no heed and the Aston Martin ends up with more than a scratch as he comes to the rescue of Kara Milovy, played by Maryam d'Abo.
How much is your car to insure? Find out in four easy steps.
Get a quote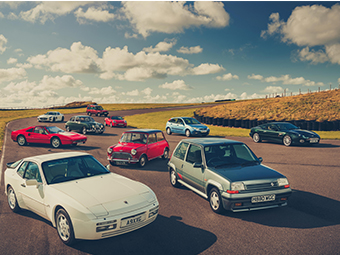 "I've had a few optional extras installed," quips Timothy Dalton's 007 as he proceeds to blast his way through a road block, deploys skis and a rocket engine to escape his pursuers on a frozen lake, before crashing it into a snow bank and, ultimately, blowing the car up himself using its self-destruct system.
Fortunately no real Astons were destroyed during filming, and one of the cars built for the movie will be up for auction at RM Sotheby's in Monterey, California on August 18, with an estimate of $1.4-$1.8 million (£1.1-£1.4m).
The car has quite the backstory. When Aston Martin boss Victor Gauntlett made a deal to supply cars to the Bond franchise again, he overlooked the fact that there was an 18-month waiting list at the factory and no new vehicles would be available. Instead, Aston Martin bought four used models from existing owners, which were updated to look like the latest examples.
The car now for sale is actually a 1973 V8, originally delivered in Tudor Green with an automatic transmission. In the hands of EON Productions it was fitted with a manual gearbox, fuel-injection, and modified bodywork sculpted from fibreglass. It was also fitted with the rocket booster and skis for the lake chase scene.
After filming finished EON kept the V8 until 1995, when it was sold to the Cars of the Stars Museum in England's Lake District, and then, in 2004 an American collector took ownership. The current keeper acquired it in 2021 and set about making it roadworthy again. A Vantage specification V540 engine was installed, together with a ZF five speed manual, all corrosion was repaired and the Q-Branch switches were put into a removable centre console. The rear rocket booster is now able to shoot real flames as well.
Of the four Aston Martins used in filming The Living Daylights, two are in a private collection, with EON keeping hold of another, making this a truly unique opportunity to buy up one of the best-ever Bond cars.