The Fate of the Sleeping Beauties
By Ard op de Weegh, Kay Hottendorff, Arnoud op de Weegh
Veloce Books, 160 Pages, £30
www.veloce.co.uk
Forget about the 2007 Portuguese Barn Find, the fantastic story about a New York couple buying an old farm and discovering a building full of old cars. That fable traveled around the world, but it pales in comparison to photographer Herbert Hesselmann's 1983 discovery on a French farm in Villemarechal, 100 kilometres south of Paris.
How much is your car to insure? Find out in four easy steps.
Get a quote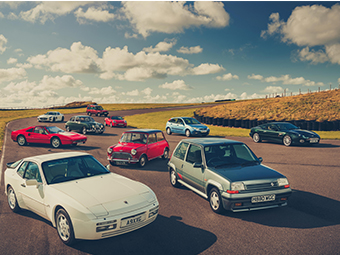 Hesselmann still holds the record for the Ultimate Barn Find. He found 58 collectible cars from the 1920s, '30s, '40s and '50s – including full classics – in stages of extraordinary decrepitude. Hesselmann photographed five Alfa Romeos, two Aston Martins, nine Bugattis, two Cords, two Ferraris, nine Lancias, four Lincolns, two Lotuses, three Panhards, two Rolls-Royces and numerous other marques like a Supercharged Graham saloon, a Ghia- bodied Jowett Jupiter coupe and a Siata Balbo coupe.

After a story and pictures ran in the German Stern magazine in 1983, cries of outrage echoed around Europe, from collectors who couldn't bear the idea of such classics rotting away in darkness. The reclusive owner was not named, but he was identified by his age, place of birth, occupation . It wasn't hard to find, and would-be buyers hounded the owner, while others broke in and stole

In 1986, Herbert Hesselman and Halwart Schrader published Sleeping Beauties, a book of photographs which catapulted the collection onto coffee tables across Europe.
But what happened to the cars? Were they restored? Who was the reclusive owner? Did he ever talk about his cars? Finally, these questions are answered in this engrossing book. It's written by Kay Hottendorff, a German engineer, and the father-and-son team of Ard and Arnoud op de Weegh, a pair of Dutch enthusiasts.
Coincidentally, in the summer of 2006, all three were searching France independently for the cars. They connected via an Internet forum that Christmas and pooled their efforts. Then in 2007, Hesselmann and Schrader updated their 1986 book, adding only information and pictures about the 1984 move. Hottendroff and the op de Weeghs, who had learned a great deal more about the fate of the collection, decided it was time to bring the story up to date.
The book starts by introducing Michel Dovaz, the Swiss national who lived in Paris in the 1950s. He bought and drove classic Bugattis, because he loved them and they simply weren't worth anything. At one time in 1958, he had 20 old cars parked around the streets of Paris.
By 1964, Dovaz had made enough money in the wine business to buy a farm in the middle of Villemarechal. The rambling place had a number of barns and his collection of more than 40 cars was gradually shipped down there and hidden. He didn't have the time or money to restore his cars, but considered that their artistic integrity was respected in their original conditions.
But when Hesselmann's photos were published in 1983, Dovaz was vilified in the press and the thefts began. So Dovaz – who was well-connected in the wine industry – shipped the whole collection 650 kilometres southwest to a friend's "house," the Chateau de Folmont near the village of Bagat-en-Quercy, about 100 kilometres east of Bordeaux in southwest France. At this point, he met Thierry Giovannoni, an enthusiast who was hoping to buy Dovaz's rare 1949 Alfa Romeo 6C 2500 Competizione (one of three) but who was also enamoured with the collection.
Giovannoni was organising the 1998 Bordeaux Motor Show and persuaded Dovaz to lend him two Bugattis to display in their unrestored state. The display was a big success and Giovannoni suggested Dovaz lend 25 cars to create an unrestored car museum in a garage at Sarlat. The museum opened in 1989, a bizarre display that placed the cars in various "barn find" locations, almost like stills from old movies.
In 1987 Christie's auction house in London sold a Type 41 Bugatti Royale for £5.5 million. The sale caused a furor in the classic car world and sent prices everywhere soaring, which attracted the attention of the tax authorities. Dovaz anticipated attention from the government and closed the museum, dispersing his collection at last. Giovannoni helped him find buyers for about 40 cars, including the nine Bugattis, seven of which went to Jean-Michel Bonabush, a pharmacy magnate from Lyon.
Dovaz kept 19 of his cars and sent four to his own chateau, a short distance north, in the Perigord. Fifteen others went to the Chateau de Sanxet, which belonged to his friend Bertrand de Passemar and which is also only about 50 kilometres from Sarlat. The Sanxet museum can be toured today and the cars are still in an unrestored state, but somewhat less dusty than in the original 1983 photos. Dovaz prospered in the wine business and kept his remaining unrestored cars. The writers of this book managed to spend what looks to have been a long and enjoyable dinner with him in 2007, in which he reminisced about a truly extraordinary life of collecting.
So the question remains: What about the cars? What happened to them? The book examines each history case-by-case, in more than 130 pages. The cars are traced as far as is possible, with period photographs, pictures during restorations and of the final results. If Michel Dovaz's intent was to save the cars he loved, for the most part it must be said that he succeeded.
To find out more, you'll have to read the book.