The fact that it takes place indoors in unglamourous Birmingham in November, in five Costco Warehouse Club-sized exhibition halls occasionally makes us forget the greatness that is the NEC Classic Motor Show. Twelve hundred cars, 500 motorbikes, an autojumble that fills one of the aforementioned halls and nearly every UK marque club imaginable (plus most of the major foreign marques) make the NEC a must-attend show for any true petrolhead.
Dave Kinney, publisher of Hagerty Price Guide and Hagerty magazine publisher Rob Sass, both from the U.S., were joined on stage by Mike Brewer and Edd China, of the Discovery UK show "Wheeler Dealers," as well as the editors of the leading weekly and monthly UK classic car publications for three valuation seminars, while the BBC's "Top Gear" presented a live version of its show at the adjacent LG Arena. Fans of the show (now in Series 17) were not disappointed by the live edition, in which the three presenters participated in automotive curling (using much reviled Rover CityRovers in place of curling stones) and "chariot races" featuring three motor scooters lashed together pulling a chariot.
How much is your car to insure? Find out in four easy steps.
Get a quote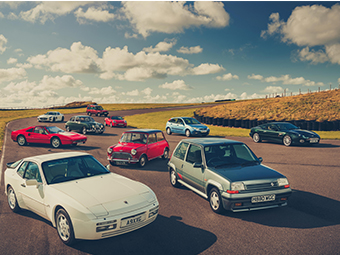 Getting to the show from anywhere in Britain couldn't be easier as Birmingham is located at the hub of the UK's motorway system, easily accessed from the M6, M42, M1, M5, M40 and M69. A better option from Central London are the fast Virgin Trains which leave Euston station every half hour or so and take about one hour and fifteen minutes to the Birmingham train station, which is connected to the show venue. Cost is about £40 for a roundtrip ticket. If you must fly, the Birmingham airport is also connected to the exhibition center.
Show tickets range from £17.50 in advance to £25.50 on the door, depending on the day, with Friday tickets being more expensive than Saturday or Sunday. Children's prices (5-16) are about half. Children under five are free.