As I walked the floor of the annual NEC Classic Car show the usual crowds gathered round the Lamborghinis, Ferraris, and Classic Jaguars, but I also noticed a phenomenon that I first detected a few years ago: Fantastic examples of the everyday cars of our youth were drawing their own hordes as well.
A beautiful late-'70s Princess sat in a corner of the hall with enough people surrounding it that I had to wait my turn to view it, some of them no doubt wondering just who it was that saved such a creature. The concours-quality Morris Marina elsewhere in the hall made me wonder how many times its tape deck had played "Superman" from The Kinks.
How much is your car to insure? Find out in four easy steps.
Get a quote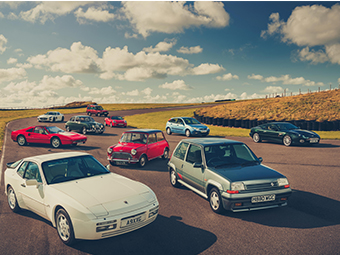 Time distills our memories, and the torrid ones we have of draconian maintenance and fighting the rust reaper with our Austins and Hillmans are offset decades on by their attainability in this rapidly escalating market, and most importantly by the nostalgia they invoke.
Nowhere was this more evident than at the Hagerty booth, where a beautifully preserved Rover 200 provoked fond recollections from attendees while they picked up flyers for the 2nd annual Festival of the Unexceptional, to be held July 26, 2015. This event is not to be missed if you are an enthusiast of the cars of decades past that shaped our everyday lives, and the inaugural festival last July yielded concours examples of Allegros, Imps, Cavaliers and Ritmos as well as bell-bottomed period dressed owners who have an enthusiasm for these cars that is refreshingly infectious.
If you appreciate everything from Isle of Man-born single-seaters and cars with squared-off steering wheels to a Metro that was fit for a Princess in 1980, then bookmark July 26, 2015, for the Festival of the Unexceptional. You'll find that the cars on display are in fact quite exceptional.