The 78th Members' Meeting finally took place in October 2021, postponed from April last year, and it did not disappoint. In fact, in some ways the delay made it more special.
Not only was there a buzz of excitement that the event was taking place with the same grids but also there were some particularly special demonstrations; a celebration of Gordon Murray, with many of the cars he has designed or collected, including the dynamic debut of the T.50 hypercar with Dario Franchitti driving. Then there was the 30th Anniversary of the Jaguar Sport XJR15, the TWR-designed supercar.
How much is your car to insure? Find out in four easy steps.
Get a quote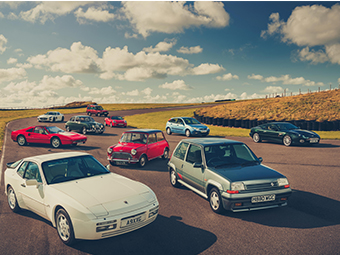 As if that weren't enough, a tribute to Ayrton Senna included the MP4/6 Formula One racing machine, with which Ayrton had won his last World Championship. Seeing and hearing that car run was moving. It was audible around the entire lap and, significantly, driven by his nephew, Bruno Senna. Magic.
There were some significant absences, however. The original billing of 78MM had included Robert Brooks and Adrian Hamilton as well as Sir Stirling Moss. All are no longer with us. Robert, former Chairman of the BRDC as well as Bonhams, was a racer to the end and I was fortunate to be his 'works driver' since he had hung up his helmet. Fortunately, we had enjoyed moments like winning the Gerry Marshall Trophy at 77MM in 2019. Another was setting pole position at Speed Week which Robert had watched from hospital in London yet when I walked into the paddock on the Sunday morning, Robert was there holding court with a group including Martin Brundle; when he saw me he exclaimed "Ah, here comes Woody, he's going to win!".
Robert died in August but John Brooks, Robert's son, kindly asked me to drive once again. I love driving this car so was delighted and had Robert in mind throughout.
Drifting in a Bugatti Type 35B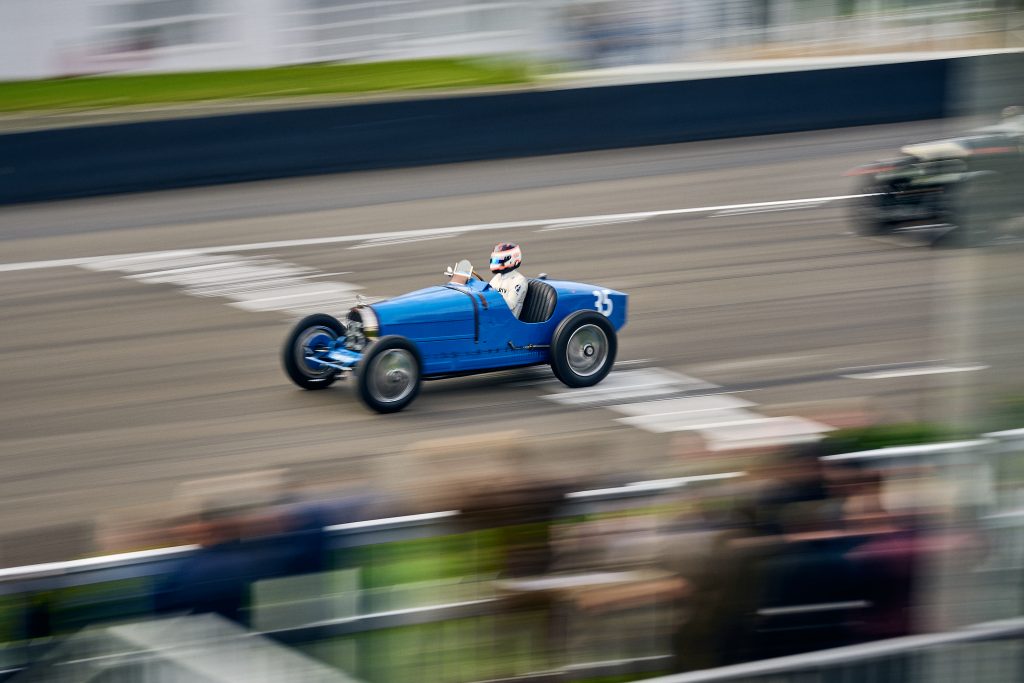 Nick Mason and Ten Tenths, the motorsport team that runs and maintains many of his cars, had asked me to drive the 1927 Bugatti Type 35B, in the Earl Howe Trophy, which was an honour. This is the ultimate version of the Type 35, a model which won more than 1,000 races between 1925-1929. Nick Mason bought it as, essentially, a restoration project with an original chassis, in the Seventies, and set to work restoring it to its former glory.
The supercharged, 2.3-litre straight-eight engine runs on methanol, the car weighs a mere 750kg and the throttle is incredibly responsive. Talking with Marino Franchitti, who has also driven the Type 35B, we agreed that the beautifully engineered machine feels incredibly fast.
Approaching Woodcote corner at over 125mph in a 94-year-old Grand Prix car is quite a sensation yet this was the most comfortable section for me. The surface is quite smooth and it is effectively a single radius. The car was relatively stable under braking and I quickly felt comfortable to roll speed into the corner, rotate it coming off the brakes and pick up the throttle early, keeping a balanced four-wheel drift. Beautiful.
That said, I had to be mindful of opening the throttle too quickly in order to minimise wheelspin. And direction changes also called for caution. For example the entry to both the chicane and St. Mary's, as I had little reference for grip levels. Likewise entering Madgwick (the first turn after the start/finish line) which has bumps and a crest halfway around and the Bugatti gets a little fidgety as it has solid axles front and rear. Whilst I had tested the car a fortnight before, that was at a wet and windy Castle Combe where it was a matter of experiencing the gearbox and 'keeping it on the island'. I was also additionally careful around other cars given the closing speeds and my not knowing exactly how much the Bugatti would slide.
I made a good start and challenged the leaders towards the first corner before backing off for caution, after which I held third place to the flag. As the race went on, I felt more and more comfortable with the car but wanted to just manage a gap to the Alfa Monza behind, which is five years younger, has better damping and more torque. Everyone was delighted with third place, first time out.
A fleeting moment with the Jaguar XJR15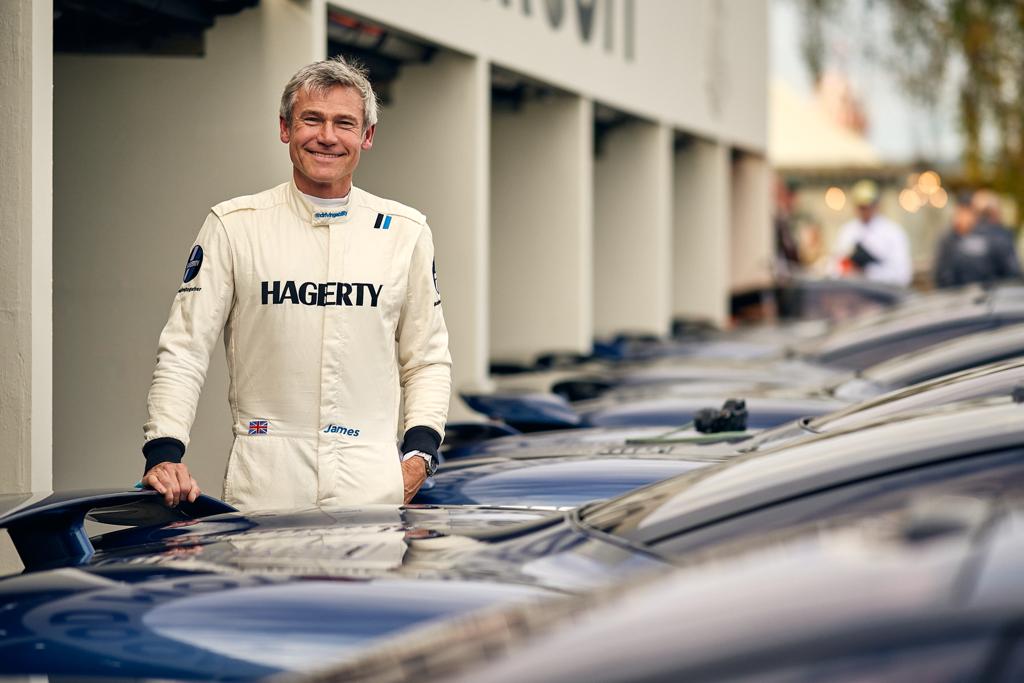 I had little time after the podium interview to wipe off my race boots (apparently absolutely normal in a Bugatti which accumulates oil in the footwell under the pedals) and slide into the carbon fibre tub of the XJR15. Whilst it is not unusual for me to switch between different cars, sometimes spanning more decades, I had never driven the XJR15 before so I had to quickly think through the controls which we had been through the day before.
The car belongs to John Ogilvie and because I had not driven it before I suggested that he drive to Goodwood Circuit's Assembly Area with me sitting beside him to give me a short experience observing.
Unfortunately, there was a problem starting it so we pushed from the paddock, with the help of marshals, to join the other cars. Incredibly frustrating for John as he had driven it earlier in the day for a photoshoot without any issue. I really felt for him, as despite the best efforts of several people, it would not start and I was unable to take to the track along with a grid of other howling 6-litre V12s.
The silver lining, as I always try to find, is that we were still privileged to part of this historic event which included the period drivers like David Brabham, Ian Flux and Armin Hahne as well as Jaguar works driver and F1 race winner John Watson. What's more, being the very generous person he is, John Ogilvie invited me to drive his other XJR15, the Win Percy car, when it returns from restoration. Watch this space…
Rolling up the sleeves in a Rover SD1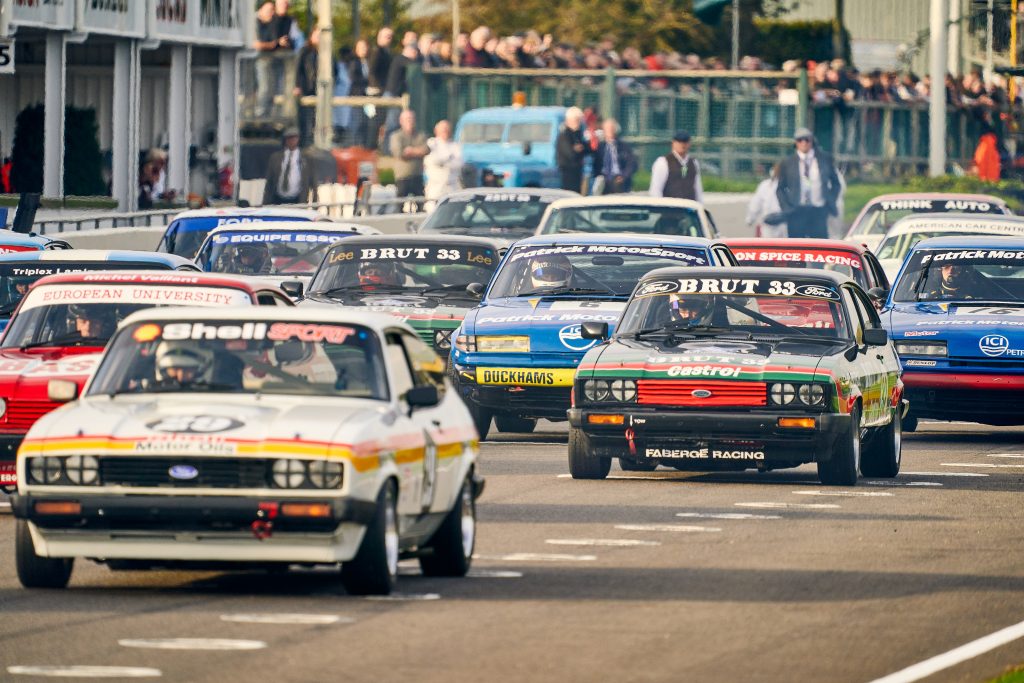 For 78MM, the Gerry Marshall Trophy was a single-driver race with sixty cars split into two heats. A very wet qualifying was not kind to us given a lack of running with the Rover; we had never used it in the wet and it had only been put back together after a major transmission rebuild on the Wednesday. All I wanted to do was to get through the session cleanly and be on the grid for the Heat. John Brooks and family were coming on the Sunday for the Final and we had to be in it.
I was confident that in the dry I could pass a lot of cars, having qualified fastest at Speed Week and overtaken eleven cars in half a lap with its reversed grid. The heat was not easy but I gained ten places and we got through to the final. The amalgamated grid on Sunday went by finishing order of the respective heats – so P1 from Heat One and P1 from Heat Two were on the front row, and so on – meaning that I had to start 17th even though my laptime was over one second faster than the Heat One winner who was on the front row!
A shortened race due to earlier delays meant that we got two or three laps fewer than billed and correspondingly less time to make places. Passing some cars was particularly difficult when they were slower but racing each other and effectively blocking the track. I managed to get to sixth, one second behind fifth at the flag so quite respectable. It was fantastic fun, as it always is when driving the Rover, and we seemed to have entertained a lot of people, which is what Goodwood's events are all about. And to cap it off there was even a beautiful sunset.
The prizegiving is a nice way to close out the event. It is a traditional practice which has all but disappeared from race meetings in recent decades but is still very much part of Goodwood events. This gives everyone a chance to swap tales of battle and congratulate people in the other races before departing for respective lands.
Competitive driving at Goodwood was not quite over for 2021, as Tom Kristensen and I had a 07:55 tee time on Monday. Goodwood has two beautiful golf courses and after a few holes, walking of course, I stopped getting flashbacks from the circuit and started playing better. A birdie reminded me to play more, as – like with cars – consistency comes with practice.
Three hours and 18 holes later we took our final chequered flag of the Goodwood season. But things don't end there for 2021. The next event is the London to Brighton Veteran Car Run, where the speeds are somewhat more modest but the camaraderie is just as special.
Read more
Sun, Snow and Racing: 76th Goodwood Members' Meeting
Goodwood on silver halide: Why I'm now a film camera convert
Iso Grifo stars in Bonhams Goodwood Revival auction