Duncan Pittaway has found a way into a very exclusive British club: make a whole lot of noise with a very rare American cat. His 1963 Cheetah, just one of perhaps 10 of the slinky Chevy-powered race cars built by California racer Bill Thomas to take on the Shelby Cobra, was a head-turning and ear-shattering highlight at this year's Goodwood Revival.
The invitation-only Revival, hosted by Charles Gordon-Lennox, the 11th Duke of Richmond, at his country estate in southern England, is generally the exclusive playground of the ultra-rich who can afford the vintage racing Ferraris, Bugattis, Jaguars, and Cobras that are the stars of the grid. But Pittaway, a land surveyor from Bristol, who is already a minor YouTube celebrity because of his 1910 Fiat S76, a gargantuan chain-driven hulk propelled by a flame-spitting 28-liter airship engine and nicknamed the "Beast of Turin," has discovered that if you can't afford the best, then go for the weirdest. Invites from the Duke will follow.
How much is your car to insure? Find out in four easy steps.
Get a quote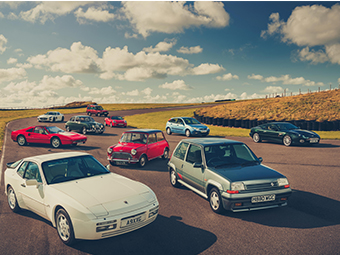 Cheetahs are certainly a weird and wild footnote of 1960s racing Americana. Anaheim, California, Corvette racer Bill Thomas created the tube-framed racing machine with backing from Chevrolet as a street and racing answer to the Ford-powered Shelby Cobra. However, in 1964 the FIA sports car homologation rules were changed from 100 cars to 1000 and General Motors, also facing congressional scrutiny over vehicle safety following the 1964 publishing of Ralph Nader's Unsafe at Any Speed, lost interest and yanked the cord on the program. The Cheetah was left high and dry. "They never really had time to develop it," said Pittaway, "so we're doing it now. Last year it was trying to kill me, but we've made some progress."
Pittaway spent years cobbling together the car from the crashed and neglected remains of chassis No. 1, which he discovered in a lockup in Arizona about a decade ago. Sorting out the complex fuel-injection system on the 440bhp small-block V8 took 18 months alone. "There are more O-rings and fittings than you can imagine," he said.
This particular Cheetah, the only survivor of two that had alloy bodywork (the rest were shod in fibreglass), was basically a prototype used to earn the car its FIA certification papers, said Pittaway, then it crashed in testing at Daytona. Entirely new rear bodywork had to be fabricated, while the front had to be carefully hammered back into shape.
The Cheetah is all tyre and muscular bulge, looking less like a bounding cat than a mollusk in hot pants. Its signature shape came from mounting the Chevy 327 almost in the middle of the car, such that the Muncie four-speed gearbox connects directly to the differential via a U-joint and without a propshaft. Wedged in behind the wheel, Pittaway sits between the rear tyres, his baking legs next to the engine and literally under the exhaust, while the 30-gallon petrol tank wraps around the cockpit from the rear. Three separate filler caps on the body allow multiple crewmen to dump in fuel at once.
The practical result, said Pittaway, is a less-than-ideal 57 percent rear weight bias, which he and his crew chief, loyal friend and former McLaren fabricator Jon Payne, have struggled to overcome. "All the adjustments you do to correct understeer and oversteer seem to be the opposite of what you'd expect," said Pittaway. "It's got a front suspension that is copied from a Lotus 23, and a rear suspension off a cement mixer."
The car's other big handicap is that Chevrolet in 1963 didn't offer production disc brakes, so the Cheetah thus has antiquated drums at all four corners. "We are doing 158 mph through the speed trap on the Lavant Straight, and then there's the 90-degree right hander at Woodcote," he said. Besides being heavier and offering a generally longer and softer brake pedal, drum brakes don't have the cooling capability of discs. Once all that metal gets hot, it is hard to cool down in racing conditions.
"I am definitely shading the brakes," said Pittaway. "I want to find the limit safely, without going over." Pittaway met the late Bob Bondurant, one of the Cheetah's original development drivers, years ago. "He thought it was hysterically funny that we were trying to restore it for racing," Pittaway recalled. Bondurant's advice: "You need to pass as many cars on the straight as you can, then try not to be re-passed by everyone in the corners."
The Cheetah was invited to the Revival weekend's headliner event, the Royal Automobile Club Tourist Trophy race on Sunday, a one-hour enduro for closed-cockpit GT cars with a mandatory driver change. Often one of the fastest and wooliest races of the weekend, it commemorates the TTs held at the former RAF Spitfire base between 1958 and 1964 and is usually an epic battle between lightweight Jaguar E-Types and Shelby Cobras. Having been to Goodwood many times, this would be Pittaway's first go in the big race. "We've had ten weeks to develop our car," he said. "Most of our competitors have had ten years."
Hoping for a finish "somewhere in the top 20," he formed up near the back of the grid of this year's running just as rain clouds loomed. About 30 minutes into the race, a deluge hit just as Pittaway, running well behind the leaders, handed off to his co-driver, 81-year-old former motorcycle and saloon car racer Stuart Graham. Graham did a couple of tentative laps in the pelting rain, which sent a couple of Cobras and a spectacular 1965 Bizzarrini 5300GT aquaplaning into the walls, then retired the Cheetah to fight another day.
When we went by the Cheetah's paddock, Pittaway was nowhere to be found, but a clearly disappointed Payne said he respected the decision. "I guess you don't get to be 81 in this game without making some smart decisions somewhere."