Motorsport UK (the rebranded MSA) have recently announced major licence rule changes for 2020 that impact on nearly every motor sport competitor. Here is Hagerty's guide to what you need to know when the rule changes come into force on 1st January 2020.
The categories have been simplified
How much is your car to insure? Find out in four easy steps.
Get a quote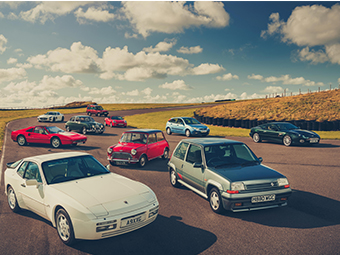 There are now three licence categories: Race, Kart and RS (Rally Speed) which covers all grassroots activities. There are four licence grades: Clubman, Interclub, National and International. If you want to know what the minimum licence requirement is for your event, go to this link.
You'll need a licence for every activity, even as a navigator
In the past, club events (two car rallies, autotests etc) were covered under a club membership card, but from 1st January drivers and navigators will need an RS Clubman licence. Passengers over 18 years of age taking part in Motorsport UK permitted events will also need one unless the event has a certificate of exemption. You'll also still need to be a club member.
RS Clubman Licence is free to obtain…
There's a two-page form to fill in, which can be done online or on paper (links below) and you won't need a photo.
…but permit Charges are a flat £5 per event
MS UK state this is a change so that the more you compete, the more you pay.
Medical assessments are changing too
Annual medicals will now only be required over 60, with eye tests for those aged 45 – 59 although the latter are free (a member benefit). Motorsport UK state that this will save on average £100 per year.
You MAY be able to gain your RS Clubman licence on the day of the event
Motorsport UK state that 'The licence form can be completed and activated by club officials on the day of the event, if not already fulfilled.' That said, some event organisers are requiring competitors to gain a licence prior to attending. The VSCC, for example, states:
"If you arrive at signing on for any event in 2020, starting with The New Year's Driving Tests in January, and you or any member of your crew does not present one of these licenses at Signing On you will not be allowed to compete."
It MAY affect wider events
We spoke to HERO, who are seeking clarification from Motorsport UK over the requirements, especially as they have overseas competitors (the RS Clubman licence currently requires a UK address). Please contact your event/ rally organiser for more information.
But there are some very good benefits
Even with the free RS Clubman licence, you'll be eligible for member benefits with reduced cost fuel, tyres etc plus £100m public liability cover and personal accident insurance, including up to five track days per year. This could be worth applying for alone.
Important Links:
RS Clubman License Online Application
RS Clubman Licence Printable Application
This is just a summary of the main points. For more information please visit Motorsport UK's Q&A Page or ask your club for clarification.
We'd love to hear your opinion of the changes below.