Hagerty International have recently been misquoted in a number of magazines and forums regarding our stance on the new MOT legislation for pre-1960 vehicles. Hagerty would like to take this opportunity to make clear that we will be happy to insure pre-1960 vehicles and do not require them to have an MOT certificate. We have, however, recommended to owners of these vehicles that it is more important than ever to ensure their vehicles are roadworthy. The new legislation places the full burden of responsibility of the vehicles' roadworthiness firmly on the shoulders of the owner. To this end it is imperative they are serviced regularly and for peace of mind, and the £40 cost of obtaining an MOT certificate eradicates any doubt that the vehicle is in a fit state and legal to be on the road.
Here's the bottom line: We believe that classic car owners should spend the money on an MOT, despite legislation introduced last year that dispensed with compulsory annual MOT's for cars manufactured before 1960.
How much is your car to insure? Find out in four easy steps.
Get a quote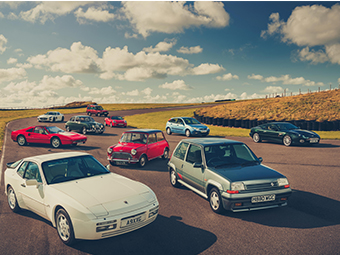 The call comes as confusion amongst classic car owners grows and fears mount that future accidents involving unroadworthy vehicles could drive some of the world's most endeared classics off Britain's roads forever.
Under the legislation, if a vehicle is proved to be unroadworthy or does not have a valid and current MOT certificate (as required under UK law), and is involved in an accident, the individual's insurance may not be valid, thus the owner could be responsible for all costs involved and possibly even be prosecuted.
It's these unintended consequences of the legislation, which was designed to save classic car enthusiasts money, that have triggered discontent amongst the classic car community.
Speaking on the issue after delivering a seminar on classic car insurance at the Car Club Expo, Angus Forysth, Managing Director of Hagerty International, said the overwhelming response to this legislation was one of confusion and questioned the true value of not holding an MOT certificate.
"Although there is a potential short term gain through not paying an annual MOT, the losses if something goes wrong are potentially enormous. While the legislation for MOTs and the appropriate charges are no longer required, we strongly believe that £50 spent on certification is the best way to ensure cars are being used safely and legally".
While the rate of classic car accidents is incredibly low, Forsyth warned that it could only take one incident to send shockwaves through the industry.
"We are passionate about classic cars. The last thing we want to arise from this piece of legislation is calls to ban classic cars from our roads. The consequences of the new laws could cost the classic industry tens of millions of pounds in the coming years, not to mention the sentimental cost of losing invaluable cars from our heritage."
Forsyth said there are now MOT stations willing to do a check on a classic, with some even offering discounted rates.
"Our advice is take advantage of the growing number of MOT stations, have your classic MOT'd and benefit from the peace of mind. Our premiums will not increase as we're taking the view that our clients are responsible and will often choose to get their vehicle inspected anyway".