On August 11th 1960, a dark blue, all-aluminium Ferrari 250 GT short wheelbase Competizione left Maranello on its way to Rob Walker, whose team would run the car in the RAC Tourist Trophy race at Goodwood later that month.
Walker had ordered the car for Stirling Moss to drive in the TT, but when Moss broke both legs and crushed three vertebrae in June when his Lotus 18 suffered a mechanical failure during practice for the Belgian Grand Prix, it looked unlikely that he would be well enough to drive. Astonishingly, Moss recovered quickly from his injuries, and Walker sent a telegram to Ferrari: "Moss is fit!" The car, chassis number 2119GT, was duly completed on time and prepared for the race.
How much is your car to insure? Find out in four easy steps.
Get a quote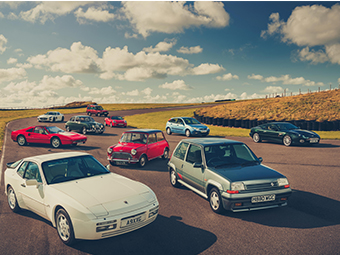 This was to be Moss's return to endurance racing, and he rose to the test. Despite a strong challenge from Roy Salvadori's Aston Martin DB4 GT, Moss dominated, finishing two clear laps ahead of the Aston at the end of the three-hour race. Famously, Moss reported that he had turned on the Ferrari's radio and listened to Raymond Baxter's commentary on the race, which helped him to monitor the progress of Salvadori behind him.
Twice more that season Moss drove the car for Walker, and twice more he won- a sprint race at Brands Hatch and the 25-lap Nassau Tourist Trophy, Moss describing the car as 'fabulous' to drive. The following season the car passed on to Maranello Concessionaires with Mike Parkes taking wins at Snetterton, Goodwood (Fordwater Trophy) and Brands Hatch, plus a good second in the 1961 Goodwood TT behind Moss in another 250 GT SWB.
After the 1961 season, 2119GT disappeared into private ownership for over three decades, and was next seen in public at Goodwood at the inaugural Festival of Speed in 1993 since when it has returned frequently.
Meanwhile, another legendary British figure in motor racing was doing rather well himself. In 1991, having worked his way up from a machinist post with March F1, Ross Brawn was appointed technical director with the Benetton team. Huge success followed: first with Benetton, then nine years with Ferrari in which they won six consecutive constructors' titles, followed by Honda.
When Honda decided to leave F1 at the end of 2008, Brawn sensed an opportunity to buy a car with potential, so arranged a buy-out as majority shareholder, renaming the team Brawn GP. With Mercedes engines, two experienced drivers and Brawn at the helm, his team dominated their rivals from the start of the season, despite initially lacking any sponsorship. By the end of the 2009, he had won both Constructors' and Drivers' Championships (with Jensen Button) and cemented his place as one of the greats of the sport. After overseeing the transition of the team to Mercedes-Benz, he retired from F1 in 2014.
Just before his retirement, Brawn purchased 2119GT in a private sale, and remains the owner. This month, the car, Brawn and Moss met at the Goodwood Revival, where Brawn gave Hagerty an exclusive insight into the car.
"I wasn't really looking for another Ferrari," Brawn told me, "But a friend at DK Engineering (who had maintained the car for many years) told me the owner was looking to sell. I knew about its competition history so took a look; a deal was done, and I become the new owner."
"The car is very different to my other Ferraris- this car is the only pure-bred racing car, and the others are all road cars. It's more of a raw driving experience… but it's great to drive."
"I do use the car on the roads- usually locally, but sometimes a longer journey in the UK. I've not yet taken it abroad on a road trip, but I want to use it more."
For a car of this age, even a Ferrari, reliability can be a problem, but Brawn told me he had had very few issues. "The car has been great. DK did a superb job restoring it some years ago, and it's now in very good condition. I've only had one problem- a burst radiator- but that is just one of those things that happens with age."
So, with a healthy collection of Ferraris already in the garage, does Brawn have any plans to buy more cars? "I don't have any plans… but that doesn't mean it won't happen. I struggle to sell cars; buying them is easier!"
Here at Hagerty, we think it is great that this iconic car with its exceptional British competition history is now in the safekeeping of a true British motorsport legend. We wish both car and owner well.
If you would like to read more about Ferrari 250 GT SWB '2119GT', a new autobiography of the car written by Doug Nye has just been published by Porter Press International. As part of their 'Great Cars' series of books, this stunning 500-page hardback is full of fascinating information and exceptional photographs (over 250 period photographs, many previously unpublished, supported by a portfolio of specially commissioned studio photography). The book is available online from www.porterpress.co.uk, telephone 01584 781588 or email sales@porterpress.co.uk