Beaulieu Autojumble attracts 38,352 visitors for one of the best shows ever, in perfect weather
Hot on the heels of the wildly successful London Olympics, the Beaulieu Autojumble matched its best attendance figures ever, under sunny skies and warm weather on 8-9 September.
The 46th Annual International Autojumble attracted 38,352 visitors from all over Europe and beyond, to peruse 2,419 collector stands packed into the grounds of the National Motor Museum and buy many of the 217 cars offered for sale in the Beaulieu Arena as well as a record number at the Dealermart.
How much is your car to insure? Find out in four easy steps.
Get a quote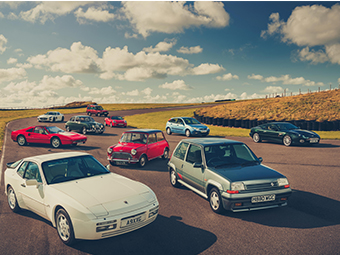 Beaulieu's Events Manager, Judith Maddox said: "Following on from the London Olympics, which have been declared the best ever held, many visitors to the show were heard to say that this was the best Beaulieu Autojumble to date."
Despite economic woes in Europe, exhibitors and buyers came from a reported 24 countries, with more than usual from Northern and Southern Ireland. They brought an exciting mixture of automobilia and ephemera and some most unusual vehicles, like two tandem mopeds, and many different languages could be heard during the weekend.
The warm Saturday evening encouraged visitors to stay late and exhibitors to stay open beyond the show closing time. Sunday was a brisk trading day, particularly for larger motoring items, and the free delivery service to the car parks was much in demand, as was the onward dispatch service provided by Easy Logistics. The sunny weather also boosted Sunday's Trunk Trader numbers, with exhibitors and visitors alike rummaging for hidden gems.
Automart cars for sale ranged from restoration projects such as a 1960s cream E-Type Jaguar to a mint 1965 Rolls-Royce Silver Cloud lll with an asking price of £34,950. More unusual was a Mercedes Benz 600 SEL at £13,950 with just 14,000 miles on the clock and one careful owner — the Prime Minister of Dubai. Other highlights included a 1937 Peugeot 402 for £14,850, a stunning 1995 Morgan Plus 8 with just 17,400 miles for £33,500, and a 1997 Lotus 7 from longtime autojumbler Norman Brown for £17,000. BMW Isetta bubble cars also attracted attention, with a 1961 model being offered by its owner of 22 years for £12,500.
One of the highlights of the Bonhams Auction, held on Saturday, was the sale of the entire contents of the Exmoor Classic Car Museum, located in Porlock, Somerset, which sold for a total of £667,128. Every lot in the collection of 10 cars, 13 motorcycles and assorted automobilia sold, with the top sales a 1927 Bugatti Type 40 Roadster (£149,340), a 1972 Ferrari 'Dino' 246GTS Spider (£144,860), and a 1923 Rolls-Royce 20hp Doctor's Coupe (£57,500).
Outside the collection a striking red-and-black 1938 Delage D6-70 Tourer first owned by 1940s screen icon Margaret Lockwood (1916 – 1990) realised £51,750. The top-selling lot was a 1925 Bentley 3/4½-litre Speed Model Red Label Tourer, which achieved £140,000 on the hammer. Perhaps the most terrifying vehicle on offer was the 1997 Challenger Tarkus 3-cylinder Morgan-style Trike, with an engine composed of three BMW R100 cylinders and a Citroen 5-speed transmission which sold for only £5,175.
Another highlight was a 1962 Ferrari 250GTE 2+2 Series 2 Coupe project, coachwork by Pininfarina. Offered in sound but dismantled 'barn find' condition, the car sold for £82,140 — more than four times its highest pre-sale estimate — to a UK telephone bidder.
Tim Schofield, Director of the Bonhams Motor Car Department, described the Beaulieu auction as "another huge success, with over 93% of lots sold and a record hammer price just short of £2.6 million." Click here for full auction results.
The winners of this year's Best Stand were SU Carburetters — for the second year running. The Salisbury-based family business run by John Burnett and his sons Mark, Jamie and Andy specialises in S.U & Amal carburettors, fuel pumps, service kits and spares. The stand was designed to look like a bombed 1940s pub, 'The Skinners Arms', which even included an ambulance — complete with casualty — and original photographs of the Skinner family, who founded SU Carburetters.
Lord Montagu presented the Burnetts with a trophy donated by Lolly Starnes, in memory of her father, Terry Lee, who was a keen autojumbler. In addition to the trophy, they once again receive a free stand at next year's International Autojumble.
It seems as though the Goodwood Revival spirit has spread to the Autojumble as it was particularly noticeable this year that a number of stand-holders put a lot of thought into the theming and decoration of their stalls, which greatly added to the fun and enjoyment of the event. Perhaps this is something to build on for future years.
Visiting American photographer Dale LaFollette, whose pictures accompany this story, said the biggest problem was making his way around the complete autojumble. "You just stop at each stand and you want to look at everything," he said, noting the hundreds of mascots on offer and collector Norman Curry's booth, where he sold literally thousands of documents for just £1 apiece.
LaFollette was also much taken with the nearby museum at Buckler's Hard, the shipyard which saw the building of so many ships-of-the-line four and five hundred years ago, when the New Forest actually was one. "It's walking distance, and the models by Gerald Wingrove have to be seen to be believed."
The International Autojumble 2013 is provisionally scheduled for the 7-8 September. These dates will be confirmed as soon as possible; please check the Beaulieu website, www.beaulieuevents.co.uk, for more details.