So the American sale-fest that is the Monterey Car Week is over for another year, with a preliminary $390.6m* of cars sold at an average sale price of just under $480,000- lots of big numbers, and on the face of it, pretty successful. However, when you look at the figures compared to last year, things are down a bit: the sale rate was only 58% and the overall total down by about 10%- the first year-on-year- fall since 2009. So what's happening?
It's true that there were some very nice cars for sale. As we've come to expect, top billing went to three Ferrari 250s: the 1964 Ferrari 250 LM Coupe sold for $17.6m by RM Sotheby's, followed closely by Gooding's 1961 Ferrari 250 California SWB Spider (closed headlamp) that sold for $16.83m and their 250 GT SWB which sold for $16.5m. Indeed, of the top ten cars, six were Ferrari 250s.
How much is your car to insure? Find out in four easy steps.
Get a quote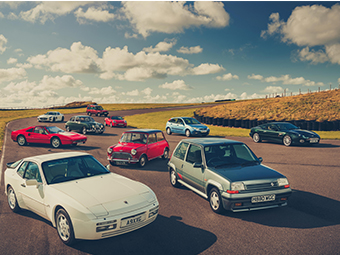 A 1998 McLaren F1, one of two cars modified by McLaren Special Operations to Le Mans specification, achieved a record $13.75m, and a stunning Jaguar C-Type Works lightweight roadster sold for $13.2m. The only Porsche to climb into the top ten was a 1982 Porsche 956 coupe that Gooding & Co sold for $10.12m.
But other than the big-ticket items, did the auction companies have a bad week? It depends on your perspective. Hagerty chief analyst Brian Rabold says a drop was inevitable after the auction world record was broken at Monterey in 2014 by a Ferrari 250 GTO. "Although having only one car in the top ten, Bonhams didn't have a bad time. The sale was energetic and their sales rate was better than past years at Quail Lodge. They didn't miss on any of their star cars. I felt it was a successful event for them despite being way off last year's figures: if there is a downside to selling a GTO, I suppose this is it."
But commentator Rob Sass feels Bonhams didn't capitalise on their 2014 success. "Bonhams was down almost double the price of [the GTO] and their stunning inability to come close to matching the quality of RM and Gooding is the most responsible for the drop off in the total from last year. If Monterey were represented by just two auction houses, RM and Gooding, we wouldn't be discussing the concept of stabilisation quite so loudly as both were up massively- about $45 million-with only about 15 more cars brought to market between the two auctions."
One undoubted highlight for many observers was the sale of the Pinnacle Portfolio by RM Sotheby's- an exceptional collection of classic and modern supercars. Does this, the sale of the Andrews Collection in May, and the recently-announced sale of part of Chis Evans's collection, signify that some collectors believe it is a good time to exit the market?
Rabold thinks not necessarily so. "I think it is a good time to sell a collection that has been assembled over a longer time frame. Unless you are talking about a collection that is primarily pre-war or American muscle, prices today are much higher than five years ago. Most signs indicate that momentum is slowing, so all of that works in favour of consolidating a collection. Of course, that could turn into a negative if several collections with similar cars come to market in quick succession- note what has happened to Mercedes-Benz 300SL and early Porsche 911 prices, for example."
One thing everyone agrees is that the trend for more modern classic cars continues unabated. Rabold says, "As we have come to expect, cars from the 1980s and 1990s sold well: The BMW E30 M3, Toyota Mk IV Supra, Ferrari 512 BBs (carburettor), Porsche 964 Turbo, Ferrari 288 GTO and Porsche 959 are all good examples."
Sass goes further: "The notion that the fourth most valuable car (McLaren F1) sold all weekend isn't even old enough to vote is something to wrap one's head around. Or try this one on for size: the Mercedes 300SL Gullwing, the gold standard of collectible post-war European sports cars, is being eclipsed in value by the Porsche 959, a technical tour de force that is not yet thirty years old. If the current stabilisation morphs into a downturn in 2016, these modern classics will be interesting cars to watch. Time may ultimately be on their side, but it will be interesting to see if that time truly is now or if it's ten or fifteen years from now."
Overall, Hagerty believes the 2015 Monterey Car Week reflects a slowing market. Generally buying seemed rational and sellers did not cling to overly-optimistic reserves. This could be a good thing for the market in general, and could bring more stability leading towards the end of 2015.
Overall from all auction companies
Cumulative Total: $390.6M*
803/1,386 lots sold: 58%
Average Sale Price: $479,557
Median Sale Price: $96,800
2014 Cumulative Results
Cumulative Total: $428.1M
765/1,264 lots sold: 61%
Average Sale Price: $559,564
Median Sale Price: $99,000
Overall Top 10 Sales from all auctions:
1964 Ferrari 250 LM Coupe sold for $17,600,000 (RM Sotheby's)
1961 Ferrari 250 GT California SWB Spider (closed headlight) sold for $16,830,000 (Gooding & Co.)
1962 Ferrari 250 GT SWB Coupe sold for $16,500,000 (Gooding & Co.)
1998 McLaren F1 LM Coupe sold for $13,750,000 (RM Sotheby's)
1953 Jaguar C-Type Works Lightweight Roadster sold for $13,200,000 (RM Sotheby's)
1956 Ferrari 250 GT TdF Coupe sold for $13,200,000 (RM Sotheby's)
1982 Porsche 956 Coupe sold for $10,120,000 (Gooding & Co.)
1959 Ferrari 250 GT Interim Coupe sold for $8,525,000 (Bonhams)
1959 Ferrari 250 GT California LWB Spider (open headlight) sold for $8,500,000 (RM Sotheby's)
1950 Ferrari 275 S/340 America Barchetta sold for $7,975,000 (RM Sotheby's)
*please note that RM Sotheby's communicated an unofficial total of $172.7M, which is $5.5M different than what we witnessed in the room. We changed our totals reflect this difference however this report might be missing a post-sale transaction in the "top 10 lists".