The transformation of Monterey, California, during the magical Monterey Classic Car Week is a complete one, as petrolheads descend upon the Peninsula from all corners of the globe. Many of them bring their best driving cars with them, so the streets are heavily peppered with machinery you won't see parked anywhere else.
With approximately 4,637,289 events wedged into these seven days, it's impossible for any one person to hit them all. Hagerty had a whole crew there, and we couldn't even get to every event. But we made it to a bunch, from tours and races to auctions and concours.
How much is your car to insure? Find out in four easy steps.
Get a quote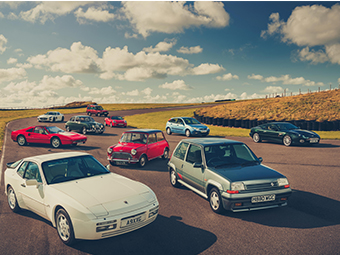 In between we witnessed some amazing sales results (More than £250 million!) and saw history made at Pebble Beach, where a 1954 Ferrari 375 MM became the first post-war car to win Best of Show since 1968.
Monterey is always chance to reconnect with the people and autos that make the old-car world hum, and we were happy to be there. And to document it. We hope you enjoy what you see.
The auctions, as usual, saw some fairly jaw-dropping results: Total dollars for all auction houses combined hit around £258M, and the top car of the week – a 1962 Ferrari 250 GTO Coupe – sold for more than £22M, setting a new record for most expensive car sold at auction.