The Monte Carlo Rally is the original rally adventure – as many as 2,350 miles through arctic winter, over the Alps Maritimes, to end up in Monaco on the sunny Mediterranean. This year it celebrates its 100th anniversary.
From chauffer-driven limousines in the early years, to terrifyingly stark sports cars in the 1930s, hopelessly underpowered family saloons in the 1950s and 60s, and 600-horsepower all-wheel drive World Rally Cars today, the drama has been played out against a setting that's a cross between a Christmas cake decoration and a white nightmare.
How much is your car to insure? Find out in four easy steps.
Get a quote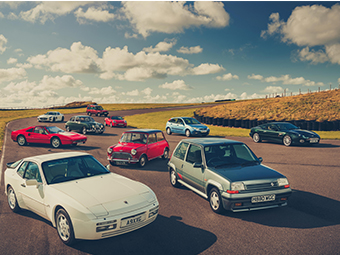 To top it all, the final outcome could be as capricious as the weather, with hidden checkpoints and judges changing the rules. If you've forgotten how the rally used to be: first it was an individual trial of strength and then it attracted the most unlikely factory entries and the top drivers. Oh, and it really helped to be French.
The last privateer won the Monte in 1978 and the 1980 Audi Quattro redefined rallying permanently. As part of World Rally Championship, the Monte is one of the best spectator sports in the world, but the magic eccentricity is somehow gone. Here's a look back at the rally's turbulent past, starting with 1911-1939.
1911 – Twenty-six starters were invited to travel to Monte Carlo to support what was basically a tourist competition against neighboring Nice. A mere 15.5 mph average was required, but all entrants had to be in Monte Carlo by January 28. Under deliberately obscure judging, hired race car driver Henri Rougier from Paris was declared the winner in a Turcat-Mery, but the driver who had started first and came from Berlin, von Esmarch, received no prize and was judged sixth. He protested (the event's first) and was promptly disqualified, establishing a longtime tradition.
1912 – Frenchman Julius Beutler in his Berliet beat 60 cars to win. Andre Nagle came 2,000 miles from St. Petersburg in his Russo-Baltique, but placed only ninth, as the judges deemed his car "in a very poor state". At the end 35 cars were classified finishers, but everybody was unhappy and protests abounded.
WORLD WAR I: NO RALLY 1913-1923
1924 –After a break for WW1, the rally was moved to March and included a hill climb and regularity (Time/Speed/Distance) tests. The concours parade with flower-bedecked cars was dropped. Among 30 entrants, Jaques Ledure beat 14 finishers in a French Bignan saloon. Last place went to Biovin in a 1904 Renault, quite an achievement, then or now.
1925 –The rally returned to January and the winner was Repusseau in a gigantic 9-litre Renault, starting from Tunis, and scoring handicap points for carrying six people. Second was Madame Mertens in a Lancia Lambda, who won the hill-climb (Repussaeu had to back up in the hairpins). She remains tied for the highest-finishing woman driver – 85 years later.
1926 –Scotsman Victor Bruce beat 36 other starters to win, beginning at John O'Groats and the press noticed, leading to future British entries. Bruce was driving an AC, powered by the 1,991cc SOHC engine still to be found in the Ace roadster 30 years later.
1927 – Athens made its debut as a distant (and therefore advantageous) starting point, but though it is warm, the Yugoslav mountains are near impassable in winter. The only Athens entry, Lieutenant Lamarche, couldn't even get there to start, which should have warned future contestants. Andre Lefebvre beat 52 other starters and 45 finishers in his tiny Amilcar 1,100cc 2-seater.
1928 –Winner J. Bignan started from one of the farthest points (Bucharest, Roumania), with the largest number of passengers he could carry. He crammed five people into a tiny Fiat 509 and though slow, he beat 60 starters, including Mrs Kitty Bruce, who was fifth, up from sixth in 1927.
1929 –Dreadful winter weather sidelined almost all the entrants from the longest distances and Dr. J. Sprenger van Eijk from Stockholm beat 84 starters (and only 24 finishers), carrying three passengers in a 4.7-litre American Graham-Paige. The car was practically rebuilt along the way, which says a lot for his factory support.
1930 –A record 115 starters ranged from Autocar Editor "Sammy" Davis in a 7-litre Daimler V12 to Donald Healey (that Donald Healey) in an 832cc Triumph Super Seven. It was a particularly mild winter, so it came down to distance and the top six of 88 finishers started in Jassy, Roumania, 2,186 miles away. Seventh was Healey, who had started in Talinn, Estonia, 2,159 miles distant, who could not make up the 27 miles difference in handicap. Hector Petit won in a Licorne.
1931—This time Donald Healey borrowed a 4½- litre Invicta, started from Stavanger in Norway and beat 107 other entrants in foul winter weather, which left only 62 running at the finish. He carried two sets of wheels – large ones for the snow and small ones for the hill-climb at the end.
1932 –Healey and the Invicta placed second among 93 starters and 64 finishers. A new (and one-time) addition was a "slow-driving" event, which was widely ridiculed. Among the entrants was Dudley Noble in a Hillman Wizard, towing a 14-foot Eccles caravan, so that the four-man team had somewhere to sleep. They finished 35th. The winner was Vasselle in a 3 1/2-litre Hotchkiss AM80S, a relatively obscure marque which would win six Monte Carlo rallies.
1933 –Healey started in Tallinn, Estonia but crashed in Germany. One of the closest Monte's, with .25 of a point separating repeat winner Vasselle in his Hotchkiss from runner-up Guyot in a Renault. Lord de Clifford placed fifth in a Bentley powered by a Gardner diesel engine, normally found in London buses.
1934 – Speaking of buses, a Monsieur Lecot entered a 24-passenger Citroen bus among 150 starters and it finished 98th of 114. Winners were Gas and Trevoux in another Hotchkiss AM80S, starting from Athens, which was a double achievement. Healey was now working for Triumph and managed 3rd in a tiny 1.2-litre Gloria.
1935 –This was nearly Healey's last race anywhere, when his supercharged Triumph Dolomite hit a train at an unmarked crossing in Denmark. Snow hampered travelers and only 103 of the 149 starters finished but a rule change meant far distant starting points no longer held an unassailable advantage on handicap. Healey's team partner J.C. Ridley managed second in the little Gloria. And there was another bus – a Ford this time – which finished 102nd.
1936 –Discouraged by difficulty and cost, entries fell this year to 92, with 72 finishers. Required average speeds were raised from 25 mph to 34 mph for small cars and 37 mph for larger ones and there was a finally a prize – £650. Strange homemade bodies made their appearance – one was canvas – and winners Cristea and Zamfirescu (starting from Athens) drove a cut-down Ford V8 Special. Oddest entry was Berescu's Ford V8, which looks like a prop from The Road Warrior, and could add two extra rear wheels and half-tracks. Amazingly he finished 19th. A very tricky driving test was widely protested.
1937 –Entries ranged from a Fiat 500 to a huge Wolseley Limousine driven by "Sammy" Davis (which won the Concours de Confort – i.e. going in style) and two Mercedes buses, though this was the last time buses would be allowed. Average speeds were raised from 25 mph to 31 mph in the final regularity test, which took place amid daily traffic – and in darkness for early starters! Le Begue and Quinlin won in a 3 ½-litre Delahaye 135 which had competed in the 1936 French GP. There were 121 starters and 81 finishers.
1938 –Special bodies, bare-bones roadsters and modified race cars were banned. Entries had to be stock saloons or drophead coupes. The route included mountain passes and the Monte started to become the rally it is today. The mountain regularity was the toughest yet but the rally came down to the speed test on the waterfront. 1937 winner Le Begue in a 4-litre Talbot missed a reversing marker and dropped from first to 20th place. He protested, a film proved him correct – but it was ignored. Second-place J. Paul, in a Delahaye was penalized for a noisy exhaust and Dutchman J. Bakker Schut won in a Ford V8, beating 125 starters and 92 finishers.
1939 –This year's speed test reverted to the simpler 1937 form (but with four occupants and luggage) and a secret hill-climb was added. A mild winter meant 42 teams started from Athens, and 24 from Tallinn. Despite an even longer mountain section there was little snow, times were very fast and 100 cars finished from 121 starters. After the speed section, Trevoux and Paul were tied for the lead with just the Eze hill-climb to go. This they also tied at 72.35 second for the kilometre. Both were 3½-litre French saloons, both had started from Athens, neither had any penalties, both had the same speed test time. Rather than repeat the hill-climb, the organizers called it a tie. Plans were made for 1940 but Hitler intervened, and it would be 10 years before the crews reassembled.