I love Goodwood, but probably not for the reasons you would expect. In the last couple of decades, this old RAF airfield on the edge of the South Downs has established itself as an automotive mecca, and it is true that the three big events- the Revival, the Festival of Speed and the Members' Meeting- are world-class affairs.
But it is between these events when, for me, Goodwood becomes magical. With the crowds gone, the place returns to being a rather quaint and quiet backwater, but a place where you can still find the most extraordinary cars and drivers and experience them at close quarters.
How much is your car to insure? Find out in four easy steps.
Get a quote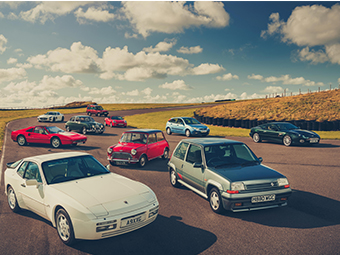 Last week was a good example. I had been invited along for a track day with Mission Motorsport- a charity that helps ex- Service personnel retrain and recover, primarily through motorsport. The idea of the day was to introduce some of their beneficiaries to a variety of cars, and what a variety there was.
Over fifty superb cars had been donated for the day by various generous owners. They were split into four groups: pre-war, 1950s, 1960s and supercars. In the earliest category, Trevor Swete brought his 1931 Invicta S-Type and persuaded a number of VSCC friends to bring their cars too. Stanley Mann was there with UW7644, a 1929 Bentley 4 ½ Litre Gurney Nutting saloon now bodied as a Le Mans racer, and Roger Buxton drove his 1930 Alfa Romeo Zagato- bodied 6C 1750 Spider.
Star of the '50s category was 'VMF 65', the Works Aston Martin DB2 that was built for the 1950 Le Mans 24 Hours. Although it did not start that race, it had a significant competition history both as a Works car and as a privateer; its list of drivers is like an automotive who's who: Stirling Moss, Peter Collins, Ray Salvadori and Lance Macklin amongst others.
The 1960s cars were also well represented. There were a brace of step-front Alfa Romeo GTAs, a stunning white Jensen Interception III convertible and a very quick 1964 Ford Mustang.
One well-known classic also managed to sneak into the supercar group. Richard Tuthill's 1972 Porsche 911 'Kermit', a 3.4 litre, 300bhp powerhouse will be well known to those followers of Chris Harris who used to own the car. Harris was on hand to drive the car, and a few lucky passengers received a few very quick laps of the track.
Another famous face also took to the wheel. Freddie Hunt, son of F1 World Champion James Hunt and now an up-and-coming racing driver himself, also took part.
I asked Mission Motorsport's Ben Williams what the aims of the day were.
"The idea is to get the beneficiaries into different cars as passengers and engage with the drivers. Some of them are very fragile- ex- Service personnel who have been injured or otherwise affected by their duties. We've found that often motorsport gives them an outlet that helps them recover, retrain and maybe find a new direction."
The charity is not all about racing though, as Williams was keen to explain. "We do race cars, but not everyone can be a driver," he said. "It's more about a team achieving a goal, and everyone working together for that aim. We have people involved in all aspects of the automotive world- from mechanics to a guy who now has his own business re-trimming leather interiors."
This last aspect is something Mission Motorsport is keen to more towards. "We're not an ongoing pastoral care organisation," says Williams. "The aim is to get Service personnel back into the world on their own two feet."
"Businesses who take on our beneficiaries like their teamwork, their dedication and their strong work ethic, sometimes in difficult circumstances. These traits tend to come naturally to ex- Service personnel and they are highly prized in industry."
The charity seems to be succeeding in its aim, with placements across the automotive industry including a number of beneficiaries who have now secured jobs with major manufacturers including Jaguar Land Rover and Rolls-Royce Motor Cars. Speaking to some of the veterans on the day, this is exactly what they want- practical help in an environment they feel comfortable in. Fundamentally, they just want to start a new chapter of their lives, and need a little support to get them on the ladder.
Mission Motorsport are seeking opportunities in all areas of the automotive industry- from logistics and manufacturing through to motorsport. If you are able to help, and for more information, please visit their website http://www.missionmotorsport.org/ email team@missionmotorsport.org, or telephone 03330 338338.