Being a father has its ups and its downs. On the negative side there's the £1/4m 'they' reckon it costs to bring up a child and the constant fear that a fat, sweaty, bearded man is chatting to them on the internet, pretending to be Jemima, a 12-year-old girl. But on the positive side, you get to do the things that you wanted to do as a kid, all in the name of bonding.
A few weeks ago I took my 13-year-old son to northern Italy. The area housed a cluster of bucket list destinations that really deserved to be combined into a road trip, and taking Freddie with me was the icing on the cake.
How much is your car to insure? Find out in four easy steps.
Get a quote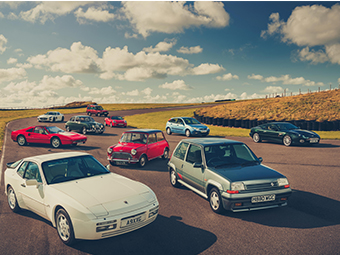 We landed in Milan, close to our first destination- the superb collection belonging to Corrado Lopresto. Housed in a nondescript industrial estate, the collection of prototypes and one-offs – mostly Lancias and Alfa Romeos – is not open to the public. Lopresto – the only person to win four Villa D'Este gold cups – has built his extraordinary portfolio of cars over many years, and painstakingly restored them while maintaining their history and patina. He also loves researching the stories for his cars, and it is for this he is known.
I loved seeing Freddie's reaction to the collection. He's a typical teenager – he loves supercars, Clarkson and Ken Block – but it was the flowing lines and dominating presence of the Alfa Romeo 6C 2500 that for him stood out as exceptional rather than the futuristic Lancia Sibilo, a Gandini show car, or the Alfa Romeo Giulietta Spider Bertone prototype that his father had fallen in love with.
That afternoon, we travelled to Arese. Here we visited the Museo Storico Alfa Romeo, recently rebuilt and now a state-of-the-art celebration of the legendary Milanese manufacturer. We both found delight in discovering models we had never seen before: the Bertone Giulia Sprint Speciale prototype, the 33/2 Speciale by Pininfarina and the 2000 Sportiva amongst others. Thoroughly overwhelmed by a day full of wonderful cars, we retired that evening to our hotel and a pizza supper.
The next day we drove the short distance to Monza. I was writing an article on the history of the Autodromo Nazionale Monza so we spent the morning fighting our way through undergrowth and clambering on the old banked 'high speed' circuit. Later, we took a guided tour through the ultra-modern F1 building, housing the pits, media centre and VIP grandstand. A group of GT-class Ferraris track testing provided an appropriate soundtrack to the day.
We then drove on to Brescia, and the Mille Miglia museum. It was probably one museum too many- compared with the cornucopia of exotic vehicles we had experienced in Milan, this collection seemed tame and the presentation old fashioned and lacking dynamism. In fairness, we were tired and the building was stunning. At the very least, we can now visualise the start/finish location of this great road race.
Our original intention had been to follow the route of the Mille Miglia up through Verona, Vicenza and Padua to our next hotel, but we quickly found that the once open roads were now heavily congested. Before long we decided to make a detour instead to Lake Garda, and spent some time admiring the view while we bathed our feet in the clear waters of the lake.
The following day we met some local friends who, knowing of our love for old cars, took us to a mechanic they knew. In his garage they smiled at us, and insisted we pulled back the covers from two cars parked quietly in a corner. One was a Ferrari 250 California with closed headlamps, and the other a Jaguar C-Type. It was a fitting, and magical, end to a superb three days.
Northern Italy provides a wealth of different opportunities and sights for lovers of historic vehicles. Given more time, we probably would have travelled south to Maranello or north up to the Stelvio Pass, but as our time was limited we stuck with our limited itinerary and decided to fly into Milan and out from Venice. As an experience for a classic car enthusiast it was fantastic, and as an experience as a father it was second to none.