Holiday music is now reverberating throughout retail shops and television adverts are lighting up rooms with gift ideas such as children's toys, jewelry, home décor and clothing, but we have even better ideas for our holiday wish lists. Read below as various car enthusiasts share their most wanted items for this year:
Angus Forsyth, Managing Director of Hagerty International, wishes to replace Daniel Craig in the scene from the James Bond film, "Skyfall," in which he drives the Aston Martin DB5 through the quite breathtaking and atmospheric scenery of Buachaille Etive Mor on the A82, The Highlands, Scotland; Dame Judy Dench would be most welcome to join. He is also dreaming big for a 1933 Alfa Romeo 8C 2300 Monza, accompanied by an entry to the world famous Mille Miglia.
How much is your car to insure? Find out in four easy steps.
Get a quote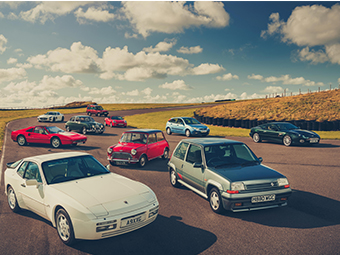 Marcus Atkinson, Marketing Director of Hagerty International Limited, would love a new mohair hood for his 1970 Fiat 124 BS Spider. The current vinyl roof is working very well and is water tight, however the mohair hood would make an already very attractive car even better! For a less realistic approach, Marcus says the Mercedes SSK is one of the most stunning pieces of automotive history, and to be able to drive one on a classic car event would be a real dream come true. It could be a simple, friendly event or a competitive rally; frankly, being able to drive or even ride in this machine would be the best thing to find under the tree!
Chris Clarke, Client Service Advisor of Hagerty International Limited, would love a Ford Mustang Pool table; this one was made from mustang wreck. Why? Why not! It's ridiculous, and seems like the logical purchase, as he loves both pool and cars. He'd also like a Cobra replica sofa, which is wonderfully tacky and would look right at home alongside the Mustang table.
Doug Hill, the museum director of the National Motor Museum based in Beaulieu, Hants, UK, would put a 1964-70 Mustang Superride II kit to good use. The kit includes Heidts® crossmember and boxing plates, 2-inch dropped spindles, tubular upper and lower arms, manual rack and pinion steering, 11-inch rotors with four-piston Wilwood calipers, and billet single adjustable coil-over shocks with chrome springs. And for the colder months, the Motor Vehicles and Motors two-volume book set by W. Worby Beaumont.
Phil Bell, editor of Classic Cars magazine, says he'd love to again borrow the Ferrari 250 GTO, chassis 3767, loaded with camping gear and wine, this time for his annual blast to Le Mans. Failing that he'd be happy to unwrap a photographic life history of his Jaguar E-Type, from when it landed in North America in 1962 until it left California for England 40 years later.
Simon Taylor, past editor of Classic & Sports Car magazine (now with his own column in the magazine), thinks that if money really were no object, he'd like the famous ex-Godfrey Giles Bugatti Type 57S. It now lives with Californian real estate billionaire John Mozart, who has treated it to an über-restoration, and it has gleamed its way to top awards at every glitzy concours in the U.S. from Pebble Beach downwards. He thinks it would go very nicely under his Christmas tree. But because he knows Santa is unlikely to shell out such a sum for his pressie, he's ready with an alternative. The German model maker CMC produced a simply superb replica of the Giles Bugatti in 1:18 scale, incredibly detailed, with fully accurate engine under the bonnet, fully equipped cockpit and dash, and spare wheel and tools in the boot. It was realised with the co-operation of John Mozart, who allowed the model-makers to visit his museum, and measure and photograph the real car from every angle, and he thinks it would sit nicely on his desk to help him dream of driving the real thing along the Moyenne Corniche in the summer sunshine.
James Elliott, group editor of Classic & Sports Car magazine, has always dreamed of a Ferrari 250GT SWB. Having been privileged enough to drive a few, he knows that the Short-Wheelbase is the only car he would ever need, whether commuting in London, crossing the continent in a hurry, or indulging himself in a bit of gentlemanly weekend historic motorsport; so much more useful than a GTO. But, in reality he would simply like the time to keep on top of his existing classics. It is bad enough that since his kids came along, the Elliott classic fleet has been reduced from four to two for financial reasons, but he finds it heartbreaking to watch those two that remain (a Jensen Interceptor and highly modded 1965 Triumph 2000) deteriorate so rapidly because he no longer has the hours to maintain a pair of very regularly used, all-weather classics.
James McBride from Silodrome, The perfect affordable gift for a a guy like me (or any car guy, really) would be a Haynes manual for that dream car I'm always talking about but have never actually owned – in my case, a mid-70s Porsche 911. It's a gift that shows me that you actually listen when I start waxing lyrical about my bucket list car and you're guaranteed to get plenty of peace and quite as I meticulously read the manual from cover to cover. As you can probably guess, the perfect though slightly less affordable gift would be the actual bucket list car – preferably a rough example that I can park in the garage and spend a few months restoring