In 2022, Hagerty's team of analysts tracked down the sale prices of cars that had once been owned by a celebrity or had appeared in a movie, then we worked out what the value for a standard car would have been at the time of the sale and published the results. That, Hagerty's first Power List, gave people for the first time a view of how celebrity really impacts vehicle values.
This year, the Hagerty Power List has grown. Nearly 400 sales of celebrity cars and bikes have been analysed from around the world, each with their own story to tell. The team has also branched out, including new categories for Art Cars and Sporting Icons, and expanding Movie Stars to include TV personalities. We've also set a few other parameters. Pure racing cars, for example, are ruled out, as we don't believe the added value created by the driver can be differentiated from the kudos of the races won in the car. Also, racing cars often had more than one driver. This year, we've also removed advertised values of cars, unless Hagerty knows for definite what it sold for. That means a few big hitters from last year have slipped off the ranking.
How much is your car to insure? Find out in four easy steps.
Get a quote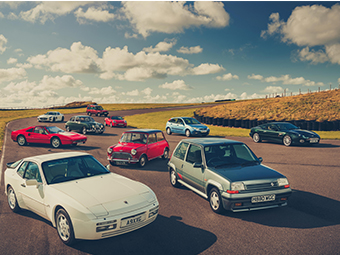 There have been some changes in the cars we track, too. This year, we included a 'tribute' car for the first time, the Porsche Carrera GTS 'Sally Special' created to celebrate the 20th anniversary of the Pixar movie Cars, and also a replica: one of the four 'Ferrari' 250 Californias used in the movie Ferris Bueller's Day Off. In total, more (real) Ferraris appeared on our list than any other marque, followed by Ford, Mercedes-Benz and Aston Martin.
But for any list, there must be an overall top ten and (drumroll…) here are the stars and movies whose vehicles have sold for the highest percentage over their standard equivalent.
The Bullitt Mustang remains at the top of the Power List for the second year running. It sold for $3.74M (£2.86M) in 2020, nearly 16,000% higher than a standard 1968 Mustang GT in the same condition, putting it in an almost unassailable position. Will it ever be beaten? Probably not. That car has absolutely everything a petrolhead wants: Even as a standard car, it embodies one of the most iconic American designs, especially in that Highland Green colour and spec. Add in its tyre-squealing scenes in one of the best movie car chases of all time, filmed at the zenith of Steve McQueen's stardom, and the story of McQueen trying to buy the car back from the owner years later, and it's a total one-off. 'Legend' is a term too often used by car journalists, but in this case, it is warranted.
It's interesting that Bullitt isn't the only film car in the top ten though, with four other cars associated with movies in the list, plus two movie actors. Classic and collector car ownership is an emotional pastime, and the chance to own a car that appeared on film with actors whose celluloid characters never age is an alluring prospect. If you were able to drive the Risky Business Porsche 928 or the Smokey and the Bandit Pontiac Firebird every day, I'm sure you'd imagine yourself as a young Tom Cruise or a grinning, Stetson-wearing Burt Reynolds? I know I would. That's why movie cars dominate our lists in terms of average value added.
But many of the top ten are the result of single sales, and almost all are from auctions. As Hagerty knows all too well from tracking thousands of auction results around the world each year, there are many reasons why cars and bikes may sell for way over (or under) what they're actually worth. Auction sales are wells of emotion where pride, exhibitionism and the human urge to remain unbeaten are all on public show. Add in alcohol and a frenzied crowd, and things can get out of hand. Also, as I wrote about in the Musicians Power List story, factors like the sale being on behalf of a charity or coinciding with the release of a retrospective movie can have a big impact on the sale price.
So, how does Hagerty deal with these factors? The best method is to draw the line higher, so that the average increase is taken from a number of vehicles, not just one spectacular sale, and when we did that, the result suddenly seems a lot more interesting for us car folk:
So, barring one-offs, these are the real movers and shakers in the world of cars, the people and movie franchises whose association adds significant value. All are known across the world, and all are authentic petrolheads, people as well known for their love of driving as they are for their primary careers. That includes HM Queen Elizabeth II: Here was a person who could literally have any car on the planet and she chose a Land Rover. That's a proper car enthusiast. This is the real 2023 Power List.
Click the links below to drill down into each category, and see who tops each list.
***
See the categories from The Hagerty Power List 2023