The Monterey Auctions have just closed again for another year, with results that are surprising.Four days of auctions took place this year with 1,277 classic vehicles on offer, and $317m changing hands.
These following results consist of what was witnessed by Hagerty during the live auctions but does not include any post-block sales not reported to us.
How much is your car to insure? Find out in four easy steps.
Get a quote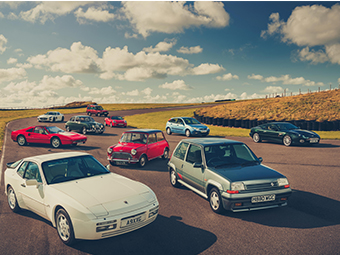 Most of the Big Lots Sold
Although the total sales were down by 6% from 2016, this was better than we had expected, pre-event, in large part thanks to the fact that most of the week's biggest consignments successfully sold. Sell-through rate was 57% and median price was $90,200—both on par with 2016's performance.
The auctions showed a buoyant high-end market (cars valued above $250,000 had the highest sell-through rate of any other segment this week) and an increase in the quality of cars offered (a nearly 10% increase in the number of cars Hagerty graded as "excellent") that both bolstered sales. And of the 23 lots in Monterey 2017 that had been at another auction previously over the past 12 months, 70% were bid to higher amounts and the average high bid was 16% percent higher.
'Modern Classics' Led The Way
Cars from the 1980s and 1990s in general performed the best this week. Standout cars from Saturday in this category include RM Sotheby's 1991 Ferrari F40 that sold for $1.54M and Gooding & Company's 1989 Porsche 911 Carrera Speedster that sold for $297,000. Ferrari Testarossas also did well by this measure, a change from recent auction experience, especially in the UK.
The second highest sale of the week was Friday's record-setting $15.62M for a 1995 McLaren F1 and a pair of Ferrari F40s sold for approximately $1.5M each, which were both good sales.
Have Early Supercars Hit their Peak?
On the flip side, a 1985 Ferrari 288 GTO from Bonhams received the lowest bid for the model since January 2014, and a 1988 Porsche 959 sold by Gooding went for $1.056M, or more than $250,000 less than it sold for last year.
Generally speaking, short-wheelbase (1964-68) Porsche 911s struggled to generate expected prices, while Turbo 930s also sold on the low side. Mercedes-Benz 190SLs, 1954-63 300SLs, and later 380SLs were also more likely than the rest of the cars offered this week to fall short of condition-appropriate prices. In broader terms, while top-tier cars did well, entry-level cars were slow to move.
Conclusion
Hagerty believes that at the moment the market favours buyers, but prices have stabilised for most models and those sellers who are realistic with their expectations are receiving fair prices. The 'Enthusiast' market is likely to remain buoyant as Monterey isn't reflective of that market, and we expect ultra-high-end cars to continue to perform well. As for the big band of cars in the middle, results will vary.