Classes would include 1980s and 1990s icons like Honda RC 30, Kawasaki ZXR 750, Yamaha OW01, Suzuki GSXX=R 750 and Ducati 888
The Manx Motor Cycle Club and the Isle of Man's Department of Economic Development have reached agreement on the future of the Manx Grand Prix Festival, and proposed a new series of Classic TT Races.
Three Classic TT Races are planned over the traditional middle weekend of racing and the August Bank Holiday Monday. Manx Grand Prix Races are scheduled to run on the following Wednesday and Friday, and practice and qualifying for both series will take place the week before.
How much is your car to insure? Find out in four easy steps.
Get a quote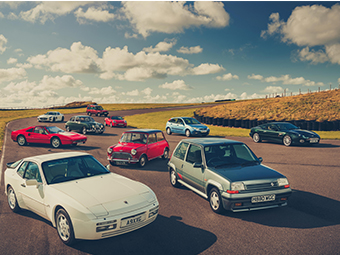 Also on the table is a four-day festival of motorcycling nostalgia, period events, exhibitions of exotic racing motorcycles, chat shows and autograph sessions with legendary riders, parade laps, air displays, and Vintage Motorcycle Club Events.
The proposals include a revamped race program with races for the traditional MGP 500cc and 350cc class, rebranded as Classic TT Races, along with new Formula 1 and Formula 2 Classic TT Races.
The plans would see the Formula 1 and Formula 2 Races run concurrently and would represent the original FIM World Championship classes from the late 1980s and early 1990s. These new classes would open the Classic TT to iconic machines such as the Honda RC30, Kawasaki ZXR 750, Yamaha OW01, Suzuki GSX-R 750 and Ducati 888.
A number of subclasses would accommodate competitors of all abilities and experience, and machinery of varying specifications. All competitors in the Classic TT would be given a classification as a GP Rider or Clubman Rider, depending on previous results and experience.
While there would only be one podium presentation per race, the subclasses would determine qualifying times, the awarding of replicas and other trophies and would be clearly identified in the official results.
The Department is inviting comments from interested parties via e-mail at iomtt@gov.im by Monday 24 September 2012.
According to, Colin Kniveton, Chief Executive, Department of Economic Development,"We have had a remarkable response to the idea of a Classic TT from the international classic motorcycle movement, which confirms our research that our motorsport heritage is unrivalled anywhere in the world. We have spoken to people from all corners of the globe including existing and potential competitors, machine owners, parade participants and race fans and all are keen to be a part of this new event."
2013 Race Programme
Saturday 24 August
Race 1 The 500cc Classic TT Race
Monday 26 August
Race 2 The 350cc Classic TT Race
Race 3 The Formula 1 Classic TT Race / The Formula 2 TT Classic TT Race
(2 races ran concurrently)
Machine Eligibility
The 500cc Classic TT Race
– 301cc–500cc Machines as per MGP Regulations
The 350cc Classic TT Race
– 175cc – 350cc Machines as per MGP Regulations
The Formula 1 Classic TT Race
– Up to 1000cc 4 stroke Machines Pre 1975
– Up to 1300cc 4 stroke Machines Pre 1986
– Up to 750cc 4 stroke, 4 cylinder Machines Pre 1993
– Up to 1000cc 4 stroke, 2 cylinder Machines Pre 1993
– 351cc – 750cc 2 stroke Machines
The Formula 2 Classic TT Race
– Up to 750cc 4 stroke, 2 cylinder Machines Pre 1986
– Up to 600cc 4 stroke, 4 cylinder Machines Pre 1986
– 126cc -350cc 2 Stroke Machines Pre 1993
Race Sub Classes
500cc Classic TT Race
Class GP1 301cc–500cc Single Cylinder and Push Rod Twin Cylinder Machines ridden by GP status Riders
Class C1 301cc–500cc Single Cylinder and Push Rod Twin Cylinder Machines ridden by Clubman status Riders
Class GP2 301cc–500cc Multiple Cylinder Machines ridden by GP status Riders
Class C2 301cc–500cc Multiple Cylinder Machines ridden by Clubman status Riders
350cc Classic TT Race
Class GP1 300cc – 350cc Single Cylinder Machines ridden by GP status Riders
Class C1 300cc – 350cc Single Cylinder Machines ridden by Clubman status Riders
Class GP2 300cc – 350cc Multiple Cylinder Machines ridden by GP status Riders
Class C2 300cc – 350cc Multiple Cylinder Machines ridden by Clubman status Riders
Class GP3 175cc – 250cc Two Stroke Machines ridden by GP status Riders
Class C3 175cc – 250cc Two Stroke Machines ridden by Clubman status Riders
Class GP4 175cc – 250cc Four Stroke Machines ridden by GP status Riders
Class C4 175cc – 250cc Four Stroke Machines ridden by Clubman status Riders
Formula 1 TT Race
Class GP1 Pre 1975 Machines ridden by GP status Riders
Class C1 Pre 1975 Machines ridden by Clubman status Riders
Class GP2 Pre 1985 Machines ridden by GP status Riders
Class C2 Pre 1985 Machines ridden by Clubman status Riders
Class GP3 Pre 1993 Machines ridden by GP status Riders
Class C3 Pre 1993 Machines ridden by Clubman status Riders
Formula 2 TT Race
Class GP1 Pre 1986 2 Stroke Machines ridden by GP status Riders
Class C1 Pre 1986 2 Stroke Machines ridden by Clubman status Riders
Class GP2 Pre 1993 2 Stroke Machines ridden by GP status Riders
Class C2 Pre 1993 2 Stroke Machines ridden by Clubman status Riders
Class GP3 Pre 1986 4 stroke, 2 cylinder Machines ridden by GP status Riders
Class C3 Pre 1986 4 stroke, 2 cylinder Machines by Clubman status Riders
Class GP4 Pre 1986 4 stroke, 4 cylinder Machines ridden by GP status Riders
Class C4 Pre 1986 4 stroke, 4 cylinder Machines by Clubman status Riders