The classic car world has lost one of its staunchest champions with the death of Edward, 3rd Baron Montagu of Beaulieu. He was 88.
Though Lord Montagu was an active campaigner on all things motoring, he is best remembered as the founder in 1952 of what was to become Britain's National Motor Museum. He had inherited the Beaulieu estate in Hampshire's New Forest the previous year at age 25, but the estate, crippled by taxes, wasn't generating enough income to keep it in good repair. To produce a viable income, Lord Montagu decided to open his home, Palace House – the former gatehouse of the medieval Beaulieu Abbey – to the public. He needed a unique attraction, and he decided to commemorate the lifetime achievements of the father he had never known – Lord John Montagu, a pioneer motorist, founder of one of the first car magazines and pro-motoring legislator who died when his son was only three – by opening a motor museum.
How much is your car to insure? Find out in four easy steps.
Get a quote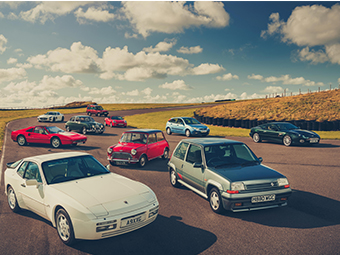 The nascent Montagu Motor Museum started with a single exhibit – a 1903 de Dion-Bouton that had belonged to his father – which was augmented by the loan of antique cars from his friends in the motor industry. Initially a handful of cars were displayed in the hall of Palace House, but the collection quickly outgrew that, and buildings sprang up in the grounds to accommodate it. By the mid-1960s more than 500,000 visitors were coming to Beaulieu annually. A long-term plan to manage the future development of the estate was drawn up, culminating in the opening in 1972 of a new 40,000-sqare-foot museum plus ancillary buildings. The new facility was an instant success; in 1974 Beaulieu was voted National Heritage Museum of the year. A Collections Centre was added in 1989 to accommodate the ever-expanding motoring library and archives.
Lord Montagu used his position in the House of Lords to campaign in support of the historic vehicle movement and on conservation matters. His efforts led to the formation in 1973 of the Historic Houses Association, of which he was President. Today, the HHA represents 1,600 stately homes. Lord Montagu also helped establish the Association of Independent Museums, and was its patron. In 1983 he was invited by the government to chair its new Historic Buildings and Monuments Commission; he quickly renamed it English Heritage and worked to make its ancient sites more visitor-friendly.
In 1962 Lord Montagu co-founded Vintage Tyre Supplies to ensure a source of authentic tyres for veteran, vintage and classic cars; it remains the world's largest supplier of original equipment tyres. Then, inspired by the swap meets he had seen in the United States, in 1967 he held the first Beaulieu Autojumble, now an annual event that attracts enthusiasts from all over the world.
He was President of the Federation of British Historic Vehicle Clubs, a 250,000-strong organisation that upholds the freedom to use historic vehicles on the road through representation with politicians and legislators; he was also active in many clubs, associations and organisations. In 2012 Lord Montagu received a lifetime achievement award in recognition of his six decades of dedication to the preservation of automotive history.