Allison and Peter Coates have rallied everywhere from the Arctic Circle to Patagonia… and they covered every mile in their Lotus Elans. This is their story.
The Sahara desert; the Amazon rainforest; bustling Indian cities at rush hour. Each tableau throngs with sights and sounds beyond imagination but none of these far-flung places are where you'd ever expect to see a classic car. Yet there it is: low slung, tiny and thrumming to the rounded beat of a Lotus twin-cam engine. We don't think Colin Chapman had this in mind when he designed them, but that hasn't stopped Allison and Peter Coates from travelling the world in their fixed-head Elans.
How much is your car to insure? Find out in four easy steps.
Get a quote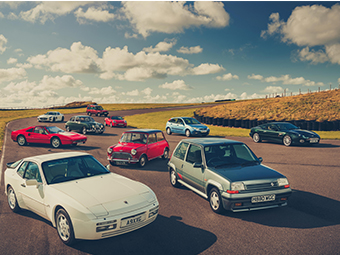 "Allison had a Mini-Marcos when we met and was thinking of changing it," Peter remembers, "Then one evening she saw an Elan advertised in the papers and going out she saw another for sale on a forecourt. Her next car had to be an Elan! We found a seven-year-old car for all of £400 but it wasn't in the best condition and she said she'd buy it if I maintained it. Knowing nothing about these cars I agreed – I'm not sure why! We've kept it as a second car ever since and never saw any reason to change it."
Almost thirty years into the couple's Elan ownership, Allison and Peter decided to give rallying a go and applied to enter the 2002 World Cup Rally. "We spoke with the organiser, the late Philip Young," says Peter. "He asked what car we planned to bring. Having just one classic car, we told him it would be the Elan. He was not impressed: he had driven an Elan on a rally and not much had been right about the experience… the door flew open and the dashboard fell out. Nevertheless, if I could persuade the rally mechanic, then we could come. I rang Peter Banham and his son-in-law designed a sumpguard for us, which we still use, while Peter gave me a list of spares which is still the basis of what we take today. At the end of the rally, it was clear that the Lotus was totally inappropriate and the challenge became to take an Elan to places they were never designed to go!"
In the years since, the couple have traversed North Africa, the Amazon, Patagonia, eastern Europe, Route 66, the Arctic Highway, Iceland, Malaysia, Vietnam, Thailand, India, Bhutan and more.
"The place that surprised us most was India," Peter says. "There's so much contrast between the crowded towns and deserted parts of Rajasthan. It seems impossible that so many people and vehicles can move in the cities when they are so tightly packed together, yet somehow they manage to get where they are going. The most enjoyable country, meanwhile, has perhaps been Iran, partly because it was a place we had lived in under very different circumstances but also because of the friendliness of all the people we met. There was a constant stream of 'welcome to my country' and genuine interest in the car."
"We've not had many major issues with our Elans," Peter continues. "When we did there was a rally mechanic on hand to help out! The most serious was when we lost the rear wheel in Morocco: a lot of things had to fall into place for us to continue. It's the land of make do and mend and we had to find a welder and skilled lathe operator to machine the drive shaft. The lathe operator had to grind the shaft to the diameter of the bearing, produce a taper and prepare a thread for the lock nut, before using an angle grinder to cut out a key way to lock the hub onto the shaft." To get the little Lotus back on the road, local mechanics agreed to work until ten that night in freezing conditions and the Elan made it back into the event the next day.
Roads – in the loosest sense of the word – also provided the Coates couple with stiff challenges. "Gravel is treacherous, as we found out in Patagonia. It's a surface with many faces. There's smooth gravel and baked mud which don't pose a problem; there's wet, sticky mud where keeping momentum is the name of the game; there's washboard, where no speed seems to give a smooth ride. Loose gravel is the nasty one; either it builds up under the sump guard and the car has no steering or it catches you out and you lose control. I'm constantly on the lookout for changes in surface or texture and I think the limit of my ability is reached well before the limit of the car's handling!"
The couple's 2010 trip to the farthest reaches of South America also provided them with their most memorable experiences to date. "For Allison it was at the Ushuaia sign knowing that the car was now as far South as it could possibly go and only the Antarctic lay beyond," smiles Peter. "For me it was looking out over a dark and forbidding stretch of water and thinking that this was the Beagle Channel, where Charles Darwin had sailed during the voyage that changed our understanding of evolution."
Sixteen years after their first long distance Lotus escapade, Allison and Peter aren't planning to stop any time soon. "Allison would like to go to Mongolia again and I would like to explore more of India. Our future rallies will also include Central Asia, with one planned in the area round Tashkent and Samarkand and another heading past Everest and down to Vietnam. We've only scraped the surface of North America too… There's a lot of the world we've not yet been to!"
You can keep up with Allison and Peter's adventures, and read diaries from their previous rallies, at www.rallyelan.com. We have to warn you: once you start scrolling, you'll be entranced for hours!