One of the latest titles to appear in the popular Veloce Classic Reprint series, Lola: The Illustrated History 1957 – 77 has hit the presses two decades after its original release. Written by John Starkey, former T70 owner and author of Lola T70: A Racing History, which we reviewed in January, the 192 page guide casts an authoritative eye over the first 20 years of the famous racing car constructor.
It's an engaging and informative read, jam-packed with race results, specifications and brief driver biographies. If you've ever wanted to know how many degrees Lola had to cant a Ford Anglia 105E engine to slip it into a Mark 3 or which windtunnel was used to develop the flowing bodywork of the T310, this is unequivocally the book for you. You'd rather know what brand of dampers the fearsome seven-litre T160 CanAm racer used or which Sports 2000 Lola was run by the Brands Hatch racing school? Don't worry, that information is in here too. From lap times to marketeer Roy Lunn and his impact on the Ford GT40, there's little – if any – Lola-related information the book doesn't cover.
How much is your car to insure? Find out in four easy steps.
Get a quote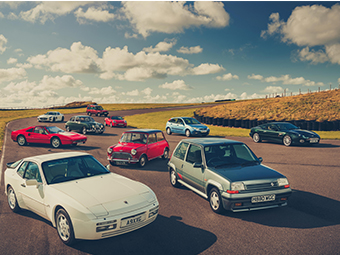 Dip in and out of the book, arranged by era and subdivided by the models built in each period, and you're bound to discover something new. The final T70 Mark 3 coupe, which was converted for road use by Franco Sbarro and delivered to Carl Haas in the US, complete with central gear lever, air conditioning and leather upholstery, provides one such interesting diversion. It's matched by the T160 that once belonged to Rod Leach, a car dealer and Shelby Cobra expert. Complete with lights, mirrors and little else, a pair of full-size photos show that the CanAm monster was once road registered in the UK. Barmy!
Even more barmy is the discovery that a South Carolina doctor used his T160 as a road car too. The book is full of these little factoids and they lend real colour to the narrative. Period road tests and driving impressions, collected from specialist magazines and the drivers who raced Lolas in period, also help to create a more rounded impression of the cars. Without these quotes, from such icons as Bruce McLaren and David Piper, us mere mortals would never learn that the Mark 6 GT racer had a throttle "like a tap" or that a T70 coupe is "easy to drive [and] very forgiving".
Our praise can't quite extend to the layout. Many pages leave the top quarter of the leaf empty, with some almost half empty, while others are crowded with text and a number of images. Images are often overlapped with one another, which can be a shame, while there are a number of occasions when the final line of a specification list or sentence appears in the next paragraph. These are small complaints, of course, but do diminish perceived quality slightly.
The predominantly black-and-white presentation feels dated, with the colour gallery offering a tantalising hint of what could have been achieved. John Surtees at Monaco is a Lola-Honda T180 and Jonathan Williams exiting Paddock Hill Bend in a T142 are particular period highlights, their detail and vivid, high-contrast hues taking the reader back in time.
There are some great monochrome shots too – GT40s at Le Mans, Donohue in a Penske T70, a T570 F3 car skidding round Brands Hatch – but there are an equal number of frustrations. Quite a few images have been blown up too far and suffer from blurring or graining, while others have been cropped in a way that cuts part of the car out of the image.
The book triumphs, however, in its use of specification sheets, 'exploded' engineering drawings and cutaway diagrams. It's a decision that allows readers to really get under the skin of the cars and better understand their packaging and construction. For home mechanics and engineering enthusiasts, it's a real treat, each image large enough to study and reproduced with pin-crisp clarity.
No matter your area of interest, whether it's the Indianapolis 500, the hard-fought Formula 5000 races of 1970s or the garagiste sports racers of the late fifties, there's plenty to enjoy in Lola: The Illustrated History. We particularly liked entries on the unique T120 hillclimb racer, GT40-inspiring Mark 6 GT and the rollercoaster racing history of the single-seater-based T33CS CanAm prototype. This is by no means a perfectly presented book but it is an engaging read, saturated with the author's unmatched knowledge and enthusiasm.
Lola: The Illustrated History 1957 – 77, ISBN 978-1-787111-04-2, is available from specialist bookshops across the UK and Veloce themselves, www.veloce.co.uk, for £37.50.