Reported recent increases in 1980s car crime have our man Skelton worried – and here's why.
It seems 1980s cars are becoming more popular than we ever thought. Not that this is surprising – classic cars are hobbies driven by emotion, and the cars we grew up with are the cars we'll all want to preserve. But there's a far deadlier side to the hobby than that, and we need to make sure we protect ourselves from an unhappy possibility.
How much is your car to insure? Find out in four easy steps.
Get a quote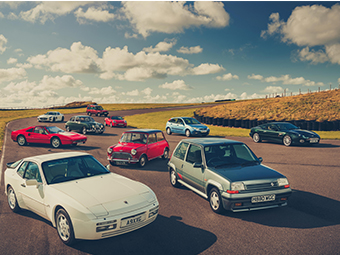 You see, with greater interest in 1980s cars comes a greater interest in their restoration. This means there's an increased demand for parts, and the sources are both finite and small. Yet parts – especially for popular models like Ford's Cortina MK5, Escort, and others like the Volkswagen Golf, are in relatively plentiful supply from breakers.
Add to this that cars are vanishing on an alarmingly frequent basis, and there is only one conclusion. The 80s car crime wave has continued, but in a different manner. Where ten years ago cars like the Vauxhall Belmont might have been stolen because they were easy to get into and hotwire, now cars are being stolen because they are almost literally worth their weight in gold.
The secondhand parts industry is bound to benefit from increased theft rates for 1980s classics. Parts are hard to trace and an easy way of making money. While some particularly nice examples might be stolen to order for private collections, this is where the majority of pilfered prides and joys will end up. Take the case of a Ford Escort RS2000 stolen in my home town of Sheffield about a year ago. Despite a £10000 reward offered for its safe return, no news was forthcoming and police eventually found the car as a bare shell Some £15000 in parts are still missing.
Each and every one of us who has cars fit for the Festival knows the difficulty of finding parts, be it a Hillman Avenger wiper motor or an Opel Ascona door mirror. Each and every one of us knows the thrill of finding parts sources, be they on eBay, at autojumbles, or wherever. And each and every one of us knows all too well how hard it can be to verify the provenance of parts. It could easily be our own cars scattered among boxes of parts on those jumble tables, and we should take this sobering thought as a wakeup call to ensure our classics are safe.
A recent Government survey suggested that in London, a 1985 car was proportionally 15 times more likely to be stolen than a brand new one. While figures for cars produced later in the decade reduce slowly, it's still a worrying trend. Worrying not only for people who own classics common enough to have a thriving parts market, but worrying for those of us with rarer unexceptional motors. Because we will be next if we're not careful.
If you can keep your treasured transport out of sight, then do – be it behind gates, in a garage, or even hidden behind the house if possible. Take steps to immobilise it – at the very least a steering lock, but there are excellent immobilisers and alarms out there too. Blocking it in behind other cars wouldn't be a bad move either. Make sure your car is well enough known in the enthusiast community to prompt suspicion if parts were to be offered, and mark every valuable part you can get to with a UV pen or similar. In short, make sure your car is difficult to access, and make sure that the parts are too well known to be sold on.
I sound like the harbinger of doom and despair, and I know that I'm making more of an issue of this than is really necessary. But we are better safe than sorry. Because there's only a finite supply of bits for our classics, there will always be a market – and in some cases, the market can be unscrupulous in how it operates. We drive cars with rudimentary standard security features, and so I'm sure that much of this advice is not new to any of us. But an increased awareness of the problem is surely a first step toward finding a solution.