One of the top two vintage motorcycle events in Europe the 20th Coupe Moto Legende offered sights, sounds, camaraderie and 1,000 bikes on track, along with 27,000 fans
Now 20 years old, the Coupes Moto Legende is one of the biggest classic motorcycle events in Europe, rivalled only by the 'Festival of 1000 Bikes' in the UK. Both attract crowds in the tens of thousands to admire historic bikes from the late 1800s to the 1980s, and also to watch them in action.
In the beginning, the French event was staged at the fabulous historic banked track at Linas-Monthléry close to Paris, where many world records were set. But after 14 years, it had to move, due to closure of the circuit, and it was relocated to the Dijon Prenois circuit.
How much is your car to insure? Find out in four easy steps.
Get a quote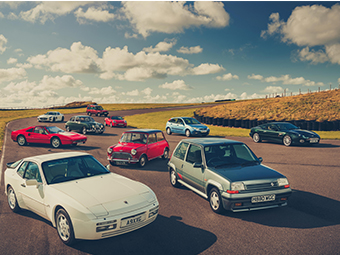 That track was opened in 1972 for the French Grand Prix GP and has now become home to the annual Coupes Moto Legende. The track itself is just short of 4 kilometres; it's quite technical for riders, but also but provides good spectator viewing.
Last year a record 28,000 enthusiasts attended, and 27,000 made the trip this year, despite heavy rain in the days leading up to it, and uncertain weather. More than 1,000 bikes competed on the track, with hundreds more on display. The show captivates all those who attend the two-day festival — even for just one day. The programme repeats and allows you to take everything in both on and off the track if you make a weekend of it.
The 1,000 motorcycles taking part are broken down into 12 categories. The classes are determined according to the bikes' power and age criteria. In addition there are two celebrity classes. Like many classic event with a track, it lures the star racers from the past, often because they get the chance to throw a leg over some of their old bikes. These have been lovingly restored by private collectors who are keen to see them ridden by the men who made them famous.
This year featured 13 two-wheeled world champions like Wayne Gardner, Freddie Spencer, Steve Baker and Christian Sarron putting in a few fast laps every couple of hours. Freddie Sheene, son of the late great Barry Sheene, took one of his father's classic bikes, owned by UK collector Steve Wheatman, out and showed he had definitely inherited his father's ability.
While the on-track action is paramount, other attractions include browsing through the stalls and auto-jumble stands looking for elusive parts, and meeting old friends. The clubs try and outdo one another in showcasing their favourite brand and are only too happy to tell you their most impressive stories. It's a wonderful way to learn much about French manufacturing history as well as the usual suspects from the British manufacturers.
Along with, clubs there were 300 exhibitors selling parts, crash helmets, clothing, etc., and the usual array of auto-jumblers selling projects to enthusiasts determined to exhibit them next year. Vintage restorers could choose from a whole gambit of items and tools, ranging from basic maintenance to total restoration.
BMW Motorrad are celebrating their 90th anniversary this year and had an impressive display of their more notable models. They had also shipped in the Ninety concept bike which has been produced in conjunction with customiser Roland Sands. Unusually for a concept machine, this one runs and was used to lead a parade of 1,000 BMW bikes on Sunday, to celebrate their anniversary. Sunday also saw more than a hundred bikes leave the circuit at the crack of dawn on the 6th Côte-d'Or Tourist Rally for a 75km trek across Burgundy's picturesque roads.
This has become an international event, with riders from all over the world including press coverage. Not only were French magazines present but publications from Germany, England, Belgium, Canada, the United States, Italy, the Netherlands and Switzerland.
Apart from the company and the sights, the French location offers some excellent biking roads to be enjoyed on the way to and from the event, along with excellent vino, when the bike is parked for the day.