For Hagerty, providing insurance for classic vehicles is all about enabling them to be driven, no matter how unique or valuable they may be. That's why we're delighted our friends at Jaguar Heritage don't just store their historic cars in a museum or lock them in an air-conditioned building, they get them out on the road and enter them in the very competitions they were built for.
For many people, the highlight of the historic event season is the Mille Miglia. It is one of those bucket list events that almost every classic car enthusiast would like to attend as a spectator, or for the very lucky, drive in as a competitor.
How much is your car to insure? Find out in four easy steps.
Get a quote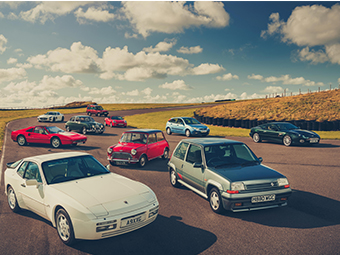 This year Jaguar Heritage entered nine cars into the legendary 1,000 mile race, won so memorably by Stirling Moss and Denis Jenkinson sixty years ago this year, when they completed the course in 10 hours, 7 minutes and 48 seconds, averaging an astonishing 99 mph.
This year the pace was slower, splitting the Brescia-Rimini-Rome-Parma-Brescia course over four days, and today the competitive element comes in the form of a regularity trial.
The Jaguar Heritage team included three very special cars. The 1953 C-Type NDU289 raced in the original Mille Miglia in 1962, and this year was piloted by Jaguar's Mike Cross. Probably the most photographed car was the 1953 XK 120 OOF748, driven by supermodels and Classic Car Show presenters Jodie Kidd and David Gandy. Finally, chef James Martin and his co-pilot Charley Boorman were lucky enough to drive the 1956 long-nose D-Type 393RW, a car that was part of the Jaguar Works Le Mans 24 Hour team of 1956 where it achieved the fastest lap, and won the 12 Hours of Reims in the same year. All three cars completed this year's Mille well within the top 200 (out of a field of 438).
After some years of Mille disappointment, Martin was very glad to finish. "You feel elated at the end. It's just the most amazing feeling. I've been through the turmoil and the heartache of not finishing the Mille Miglia so to be able to cross that line…I'm a tough Yorkshire farmer, but I had tears in my eyes!"
For those who would like to see highlights of the Jaguar Heritage 2015 Mille Miglia, they have produced an excellent video here: https://www.youtube.com/watch?v=0bb8BrYxJvQ
All photographs courtesy of Jaguar Heritage. www.jaguarheritage.com