Sam Skelton tells us why it's the little things that count.
A few years ago, I came very close to buying an Alfa Romeo 164 Cloverleaf. I'd only driven one up to this point, a nasty modified example which I'd come across earlier in my hunt. I'd spent six months looking for the right car, and J717FGJ could have been it. It ticked the right boxes, it was two tone red over grey, with tan leather and period Zender alloy wheels. But none of this mattered really. There was one reason I wanted this car as badly as I wanted my next breath. The maddeningly complex dashboard of the 164 is a work of art.
How much is your car to insure? Find out in four easy steps.
Get a quote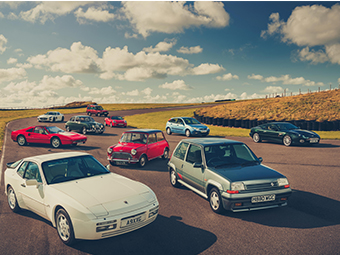 It seems strange to base a car-buying decision on one aspect which makes you feel good. Many people choose all-rounders, because they're aware they have to live with the foibles day after day, and there are more important things than the way it makes you feel. Reliability, space, practicality, comfort – these are just some of the things that matter more than a bank of matching switches with differing tasks. But I didn't care, I wanted that button panel. It looked like a 1980s vision of the future.
I happen to know music legend and classic car enthusiast, Jools Holland, is no different. His eclectic collection contains several cars bought on a whim for one feature or another. His 1965 Austin Westminster earned its place because the smell of the interior was so evocative of law and order in days gone by.
This explains in part why I've just bought a 1972 Rover 2000SC. I've had a bit of a thing for the P6 for a while now, I like the advanced thought with which it was designed, I like the way it effectively invented a market sector in the UK, and I like the way it looks. But mostly, I like the way the doors go thplunk when you close them.
To anyone who's never experienced the moment of bliss when a Rover P6 door thuds home, I advise you go and find one to try. Because it's not so much a car door as a vault. (You should really start playing some inspiring music at this point in the eulogy. I recommend "I Vow To Thee My Country" by Holst.) The doors of a Rover P6 are evidence of a uniquely British way of doing things. You feel that engineers in store coats and flat caps, possibly called Bertram or Edward, agonised over the way their cars were put together. You feel like they weren't allowed to leave the factory until each click was "just so" – until each car was put together the way Edward and his colleagues would like their own cars to be. And the bonnet and bootlid reflect that same attitude, albeit with rather more subdued and gentle clicks.
As a feelgood element, the way the doors shut on a Rover P6 is unrivalled by almost any feature of any classic. My Stag, a car which far eclipsed the humble 2000 in price when new, feels like it was thrown together in comparison.
It isn't as though the door shut noise is the only evidence the car was designed by people who cared about the product. It has a lot of clever touches – from little sidelight peaks to illuminate the corners at night to a useful second glovebox under the steering column. The body was clever – conscious of rust worries and parking dent potential, Rover developed a skeletal structure utilising replaceable bolt-on panels hung from a base unit. It was even designed for future technical audacity – the complex horizontal coil springs were developed to leave room under the bonnet for Rover's gas turbine, should work have ever been completed.
But the door shuts are what captured my heart. I might sound mad – certainly to those of you who were reading a couple of months ago, when I argued the case for the Vauxhall Vectra as a classic car – but there will be a number of classic car fans out there nodding sagely. From the BMC flashing indicator stalk to the illuminated radiator badge on a Wolseley 6/80, the things we like about old cars are the details. And it's a brave man who says he's never bought a car because of an almost inconsequential feature.
I'll be back shortly. I've doors to play with. Thplunk.