Back in February, when I interviewed Quentin Willson at the launch of Channel 5's The Classic Car Show, he told me he wanted to bring classic cars into the mainstream. When I spoke to him this week as the first series drew to a close, I asked him if he thought he had achieved his aim.
"Yes, undoubtedly," Willson told me. "We have had around 980,000 viewers per show, which is 100% up on what that slot usually draws in. For a first series, that's great numbers. The social media has been a good indicator too- we've had some wonderful tweets by people new to classic cars who have been introduced to exciting, affordable cars that they knew nothing about. The demographic- from 16 to 65- is very wide, and we've had roughly a 50/50 split in male and female viewers."
How much is your car to insure? Find out in four easy steps.
Get a quote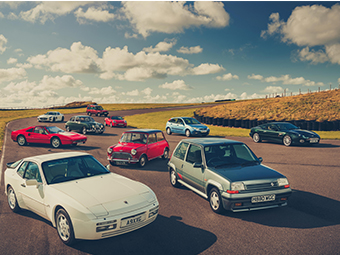 This last figure is really telling. In a world of fast-paced, testosterone-filled car shows, The Classic Car Show stands out as something more genteel. Having a female presenter (Jodie Kidd) who talks about handbags at the same as ragging a Bugatti 35C around Montlery helps, but Willson tells me the real attraction is something deeper. "I've been told by female viewers that they really appreciate not being talked-down to. We know that cars appeal to women as well as men, and we want to expose the wonderful world of classic cars to all of them."
So what's on the cards for the next series? "We want to maintain the same feel, but we're constantly trying to improve. We're probably going to change the links between items, and I'd like to try new things like buying cars on screen. We also want to cover more of the newer classics- cars like the Peugeot 205 GTI that have a growing interest to lots of people. The show has been sold abroad, and we would really like to do segments for specific audiences, especially when it comes to American cars. Some of the barn finds they have over there are amazing, and we'd love to show them."
With its cinematic-quality shots and respectful tone, The Classic Car Show stands out as a more elegant motoring show than others. This may not be to everyone's tastes, but it certainly does introduce and explain a little of the love for classic cars that many of us hold. Here at Hagerty we really look forward to the next series.
The Classic Car Show returns later in the year on Channel 5.