John Surtees CBE was one of racing's true greats- the only man to have triumphed at the highest level as champion on both two wheels and four. And yet in the last few years many of the punters at car shows often overlooked this unassuming old gentleman, looking instead for his more publicity-savvy brethren. Fortunately, Hagerty's Actuarius was given the opportunity to interview this most dedicated of racing drivers a few months before his death. We have chosen to republish his report in celebration of the life of this great British racing driver.
Thanks to the Goodwood press team, I had the chance to interview John Surtees CBE for the Goodwood Marshals Club magazine at last year's Revival meeting. Of course he is best known for being the only person to win the top level championships for both two and four wheels, but he has also been a key part of the Goodwood events since the first Festival of Speed over 20 years ago. Here he has always been active, despite his years – not just rolled out as an 'accessory' but involved as much as possible as a driver, even right up to the 2016 Revival.
How much is your car to insure? Find out in four easy steps.
Get a quote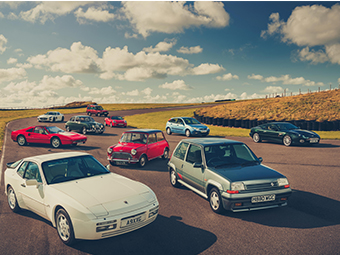 Having been ushered into the inner sanctum of the driver's area I sat excitedly waiting as he was brought out from the canteen area. The sense of occasion was heightened by the fact that I was in an environment dressed to resemble a country house library, facing a cabinet full of Jim Clark's trophies.
I have met Mr Surtees briefly a couple of times in the past but that was as an autograph hunting enthusiast. Now it was different – I had the time to talk in a relaxed, unpressured environment. My first impression was that John remained the consummate professional: each question and prompt was met with silent consideration and thought before a fully formed answer was given. The continued focus now, at a time in his life where such things are less important or expected, perhaps gave an insight into how he managed to achieve so much.
I explained my background, and the conversation immediately swung to the role of marshals, who he obviously held in high regard. "They have to cope with the differing challenges of the Festival of Speed and the race track. The fact that the circuit is unchanged since 1950, the year of the first real event, is also a unique challenge to both drivers and marshals. It's a compliment to everyone that the events are held in such high regard."
Furthermore, Surtees was impressed at the sheer variety of vehicles that Lord March tempts onto the track. "There is such a wide range of equipment, some modified and raced constantly while others are in collections and museums, all brought out just for Goodwood. There's bound to be a wide range of discrepancies of cars that the marshals have to deal with."
I then turned the conversation to his memories of the circuit. Having recently driven Jim Clark's Lotus during the tribute to him, he was moved to comment how grateful he was that the design and safety of cars have moved on since those days. This, given Clark's trophies nearby, seemed to naturally move our conversation onto the quiet Scot. "I actually met him at my first car race at Goodwood, but got to know him a bit better when I started my F1 career at Lotus alongside Clark and Ireland. However, we became more distant as our careers progressed and, having joined Ferrari, I moved to Italy."
Finally, I asked him what his favourite memory of the Goodwood Revival or Festival of Speed was? After the usual few seconds pause he told me "Well, I suppose the last time I raced here was good and bad. I was sharing David Piper's 250 LM and we put it on pole. That was the good bit. During the race though we had a problem with the driver handover and consequently only came second. So, it was rather bitter-sweet." What struck me was that, of anyone in Motorsport, his unique achievement means that he has the least to prove. He was well over 80 years old, talking about a historic car race, and yet was still upset that he had 'only' come second! Perhaps this gives the truest insight into what separates world champions from the rest of us.
John Surtees CBE
500cc Motorcycle World Champion 1956, 1958, 1959, 1960 (MV Agusta).
350cc Motorcycle World Champion 1958, 1959, 1960 (MV Agusta).
First man to win the Senior Isle of Man TT three years in succession.
Formula 1 World Champion 1964 (Scuderia Ferrari).
Can-Am Championship Winner 1966 (Team Surtees, Lola T70- Chevrolet).
Inducted into the Motor Sport Hall of Fame, 2012.
Rest in Peace, Il Grande John.