Given the nature of classic cars, it is surprising how many people are happy to purchase an older vehicle without the most basic of inspections. Many common problems such as hidden corrosion, mechanical issues, incorrect documentation and non-original parts may all be discoverable prior to purchase, and this could save you a great deal of money and heartache in the long run. This quick guide provides pointers to help you ensure that buying your dream classic doesn't turn into a nightmare.
Do your research. Check out the model first, and find out what to look out for. All classics have at least one Achilles' heel, and by joining the owners club or forum, or speaking to current owners, you'll soon find out more. If you are set on a specific car, do more detailed research to find out about the car's history, adding provenance and potentially value. There are a few specialist companies that can do this for you.
How much is your car to insure? Find out in four easy steps.
Get a quote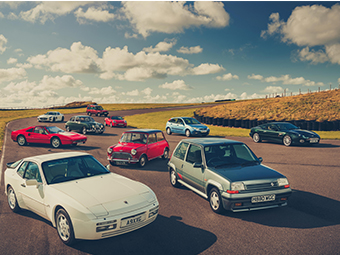 Take someone who knows. When you view the car, try to bring a classic car expert along with you. General mechanics may be able to spot obvious faults, but originality also makes a lot of difference to value. If you can get a marque expert, all the better. Again, there are companies that will perform this service for you.
Check the paperwork and numbers. Check the V5C against the actual numbers on the car. The numbers are different more often than you would expect. This doesn't necessarily mean anything "dodgy" is going on, but it is well worth checking with HPI just in case. Check all the service records or history file entries, too − does the mileage grow steadily, or have there been periods when the car was off the road? If there is no history, you should ask why.
Inspect the car methodically. Write a list before you go and tick it off. Break the car down into areas: bodywork, running gear, engine, interior, electrical. Now start at one place and work methodically around the car. Don't let the owner rush you or draw your eye elsewhere. Use your eyes and your fingers to feel for problems: Rust tends to accumulate around those areas where moisture and dirt get trapped (valances, sills, arches, chassis). Are these areas lumpy with filler, do the panels feel "thick," have they recently been oversprayed? Do the doors, bonnet and boot fit properly? Is the chassis bent? (Look underneath and in the engine bay.) Look for oil leaks (although don't be too surprised when you find them). Feel the "play" in wheel hubs, propshafts and steering (again, a little is to be expected). Mechanically, has the car been looked after, or does it have old spark plugs, thick black oil and old, cracked fuel pipes? With the engine running, look and listen for knocking, tapping and leaks, and look to see whether oil pressure and water temperature stay in the right zones. Look at the tyres for unusual wear and sidewall cracking (which can be extremely dangerous). Check that all trim is there and electrical items work − these can be very expensive to replace.
Test drive it. Finally, assuming you want to drive the car and not just look at it − take it out! Does it run, steer and stop the way it should? Again, if you are not used to driving the car then get someone who knows older cars to help, as classics very rarely drive like modern vehicles.
We all know that no classic car is perfect, but we would prefer to know what we are buying, and that's why having an inspection done can save you a great deal of time and money, and allows you full enjoyment of your pride and joy. And remember − if the inspection identifies a problem, speak to the seller. You never know; he may just knock a little off and make that new purchase all the sweeter.
John Mayhead is Managing Director of Classic Status Report , providing UK-wide classic car inspections and historical research. Call 0845 5396639 or email mail@classicstatusreport.com