Over the festive period, there's nothing better that sinking down into your favourite armchair with a glass of something warming and watching one of your favourite movies. For the petrolhead there are many to choose from- here are our favourite films for the motoring enthusiast.
Number 10: Le Mans
How much is your car to insure? Find out in four easy steps.
Get a quote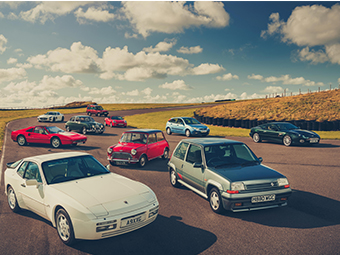 If you're looking for enthralling dialogue, Le Mans is not the film for you. But if you want to watch a film where Steve McQueen is upstaged by the cars- an amazing cast of Porsche 917s, Ferrari 512s and Porsche 908s- then this will tick all your boxes. An amazing mix of real race footage and spectacular stunt driving- no CGI here- makes it a great spectacle, if not a great film.
Number 9: Cars
Ok, so you may think we've gone mad in selecting an animated Disney film, but as every father of small boys knows, Cars is a great movie. It has the usual Disney combination: action, jeopardy, humour and a moral. But it also has a surprising list of likable characters and a great soundtrack- enough to make it one of the few kids films you can watch again and again.
Number 8: Ronin
This 1998 thriller starring Robert De Niro is not a car film per se but it features one of the best car chases ever captured on screen. Over seven minutes long, filmed in Paris and shot from a range of different perspectives, this scene alone pushes Ronin into our top ten. Link here.
Number 7: The Italian Job
Everyone knows the plot: a British gang descend on Turin to steal a haul of gold from under the noses of the Mafia. Petrolheads will also know the range of cars, from Astons to Alfas, that pursue each other in one of the longest car chase scenes ever shot. Everyone remembers the three Minis, but for us the scene that makes this a classic is the opening shot: an Italian businessman pushing his Lamborghini Miura through the snowy foothills of the Alps, accompanied by a Matt Munro soundtrack.
Number 6: The Hagerty Small-Block Chevy V8 Timelapse
Our clever colleagues in the US put together one of the coolest videos of 2015- a timelapse video of a Chevy small-block V8 restoration from start to finish. Now watched nearly 3 million times, you can still watch it here.
Number 5: Bullitt
Bullitt is another non- car film, but one that is now remembered as much for the cars as for the plot. Frank Bullitt is a no-nonsense cop who happens to drive a 1968 Ford Mustang 390 GT 2+2 Fastback. The bad guys drive a 1968 Dodge Charger 440 Magnum, and they chase each other through the streets of San Francisco. What more could you want?
Number 4: TT3D Closer to the Edge
Beautifully shot, this film follows the riders of the Isle of Man TT through a turbulent season. Guy Martin features, as do TT legends John McGuinness and Ian Hutchinson. The film includes some spectacular incidents and some epic racing, making this a fantastic film, even if you are not a biker.
Number 3: Grand Prix
Like Le Mans, the 1966 movie Grand Prix has an extraordinary combination of 'stunt' driving and archive footage, but this time combines it with a good plot. It also features cameos from most F1 drivers of the day- from Graham Hill to Juan Manuel Fangio. Shot on location at many of the F1 races, some of the most memorable scenes were shot on the old Monza banking– the last time it was used in this way.
Number 2: Senna
This 2010 documentary gives a superb record of Ayrton Senna's life, focusing on his F1 career. It mixes race footage with home video clips and provides a moving and insightful view of the legendary F1 champion. Moving and sometimes shocking, Senna deserves its place at number 2.
Number 1: C'etait un Rendezvous
An August dawn in Paris- the perfect place for an epic car film. This movie- filmed in one continuous 8 minute 30 second shot from a bumper-mounted camera shows a sometimes suicidally-quick race through the city from the Paris Périphérique to Montmartre, where the driver meets his girl. We now know the soundtrack was dubbed- the sound of the Mercedes-Benz 450SEL 6.9 used for the shoot was replaced by that of a Ferrari 275 GTB- and that the speed wasn't quite as fast as it looks on celluloid, but the result is still epic. There's no dialogue, no music, minimal plot, just a car driving fast through an almost-empty city. It's Hagerty's number 1 car film
What do you think? Have we missed something? Tell us below!