Hagerty's third Live Valuation Arena took place on Sunday 7th August at the Bicester Heritage Sunday Scramble. It was a sell-out, and the experts from Hagerty, H&H Classic Auctions, Classic Cars for Sale and Classic Cars magazine had their work cut out to provide valuations for all of the hugely diverse field of entrants, plus the day raised over £250 for charity.
As usual, there was a huge mix of classics. Amongst the earlier cars was a superb Austin-Healey Sprite belonging to Mike Sheppard who had bought the car new in 1959, sold it in 1964, then found (and bought) it again in 2006. Now nearing the end of a lengthy restoration, it was found to be in lovely condition.
How much is your car to insure? Find out in four easy steps.
Get a quote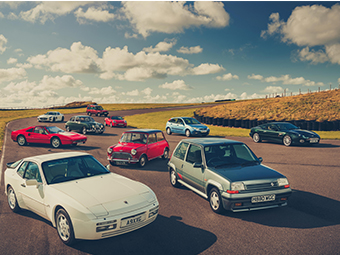 Other earlier classics included a French- delivered 1960 Alfa Romeo Giulietta Spider. It was an unusual car- a 'transition' model with small rear lights and early boot hinges, and although it was showing its age in some areas, H&H's James Wheeler noted that it was remarkably 'honest' for a car of that age.
An MG TC was the day's earliest car, with a build date of 1946. Other than a VW steering adaption, it was also in lovely original condition and was brought by its owner, the only lady driver of the day.
Most striking car of the day had to be Sean Edmund's 1983 Trabant P601. No stranger to Zwickau's finest, Mr Edmunds had restored this one to full 'Feuerwehr' (Fire Brigade) livery complete with original 'coalscuttle' helmet on the back dashboard.
Another 1980s car that attracted a great deal of attention was Calum Brown's Austin Allegro 3 1.3L. Its fetching shade of brown complimented its beige/brown seats perfectly, and with only 2 owners from new, it represented the 'Unexceptional' class very nicely indeed.
Emerging classics also featured strongly. A 1994 BMW 840 with full service history provided a nice comparison to a 1993 Mercedes-Benz 220CE, but it was an exceptional, right-hand drive 1995 Corvette ZR-1 that really stood out. Bought by the current owner in 2000 with only five miles on the clock, it was stock with the exception of being slightly lowered.
But it was one of the last cars of the days that caught the eye of Hagerty Price Guide editor John Mayhead. A UK-delivered 1968 Plymouth Barracuda V8 318 Fastback was brought by Christopher McNabb. A totally original car, with no welding and a fully-documented 38,000 miles from new, the Barracuda looked and sounded absolutely amazing.
Hagerty's last Live Valuation Arena will take place on Sunday 2nd October 2016 at Bicester Heritage. Places are limited, and run out quickly- to book your slot please visit http://bicesterheritage.co.uk/events/ where you can register.
The cost is £15, all of which goes to charity. Entrants will receive a Valuation Certificate and a set of hi-resolution professional photographs of their car. Hagerty will, of course, accept any values agreed against one of our policies.