We've all seen the headlines: last year Bonhams sold a 1973 Porsche 911S 2.4 for £393,000. In October, H&H sold a Ferrari 250 GT SWB and a 275 GTB/4 for a combined total of £8.53m.
These cars all sold for a great deal more money than the Hagerty Price Guide suggests for their models. Why? Because each of these cars had a story. The Porsche was originally owned by contemporary artist Richard Hamilton. The Ferraris were the cars of Richard Colton, well known not just as a collector but as someone who used their cars- he travelled extensively in them. People bought not just the cars, but these stories; they wanted to be part of the ongoing tale.
How much is your car to insure? Find out in four easy steps.
Get a quote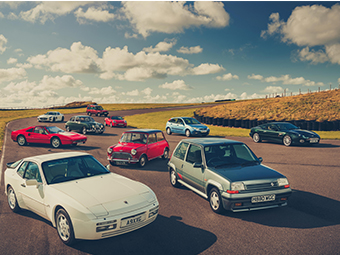 That's why people are so interested in researching the history of their own cars and bikes- like an archaeologist, they love peeling back the layers and discovering as much as they can about the vehicle which means so much to them.
Here is Hagerty's guide to researching your classic car.
Read through the history file
This sounds obvious, but many classics come with a stack of bills and notes. Car history gems are often hidden in here: service receipts that show the mileage at a certain age, documents showing previous owners, and notes detailing where cars have been in their lives.
Check with the DVLA
There are two checks you can perform online quickly and without cost that can give you a great deal of information about a classic car. One is the SORN check online. As long as you know the registration and the make, this can show you when the car was last taxed and the MOT passed. If you want more detail in regard to the MOT, visit the VOSA website– here you can download the recent MOT history including advisories, and if the car failed, what it failed on. Really useful if you are buying a car, rather than relying on the previous owner's memory.
The DVLA may also be able to provide you with details of previous owners of the car, and copies of old log books, but a charge applies.
Ask the manufacturer.
Many manufacturers keep a list of their historic car records. These vary wildly- some can provide original engine, chassis and gearbox numbers, colours, production dates and dealer information, while others may just be able to confirm the build date. They also vary in price- some are free, but some come with a cost. If the latter, check whether members of an owners' club get the certificate free: joining one can be cheaper than paying for the certificate alone, especially if you have more than one car of a particular marque.
Contact the Register or Club.
Many classic cars now have model registers. Some are freely available online, and others may only be available to members. These are a gold mine- they can often give you details of previous owners and help track modifications such as engine changes.
Google the chassis number and registration number.
It's amazing what this can unearth. Entries into classic events, auction catalogue listings and previous advertisements can all appear. Auction entries are great- not just for tracking previous values of the car but also the descriptions, which can help unearth more of the car's story.
Follow the trail.
One of the Hagerty team recently received a manufacturer's certificate for their classic car. This stated it had originally been sold by a specific London dealer. A quick online search and a few phone calls later, it was found that the dealer's records still existed. A few days later, a copy of the original cardex, showing details right down to the glove box key code, arrived in the post.
Get a second opinion
Car inspections are great, as they show someone else's perspective of your car. This can help you work out the true value of the car for your classic car insurance policy, but such a document also adds a nice touch to any history file. This year, Hagerty are teaming up with experts from H&H auctions and Classic Cars magazine to bring you the Live Valuation Arena at each Bicester Sunday Scramble event. Here, owners will be able to have their car inspected and receive a valuation certificate.
Present it nicely.
So, you've carried out your research and you've uncovered a wealth of history. What do you do with it? The key is to present it clearly and in a nice format. A nice file, maybe matching the colour of the car's interior, with everything in order: MOTs together, old tax discs, and old receipts. Don't throw anything out! A nice history file really helps to show a car has been cherished.
Have we missed anything? Tell us what you think!