What do a Datsun Bluebird GL Estate, a Vauxhall Victor and a Ford Fiesta Pop Plus all have in common? They are all confirmed entrants to Hagerty's 2015 Festival of the Unexceptional at Whittlebury Park on 25th July!
This year we've been overwhelmed by the number of superb Unexceptional entries to the Concours de l'Ordinaire, and have had to disappoint some owners whose cars didn't quite meet the exacting requirements demanded of a true Unexceptional classic.
How much is your car to insure? Find out in four easy steps.
Get a quote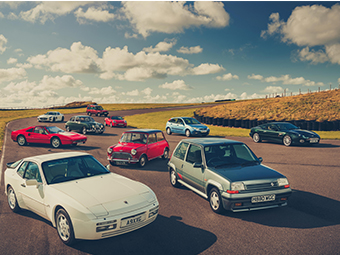 Instead, this year's tribute to automotive heritage will be headlined by a Rover SDI police car, a rare classic made famous by cop shows Ashes to Ashes and Life on Mars, a Hillman Minx from Call The Midwife, an award-winning Citroen Dyane, a completely original '63 Ford Cortina and The Vauxhall Cavalier that featured in all its unexceptional glory on James May's Cars of the People.
Casting their expert eyes over these unexceptional wonders is the ex-Director-General of the British Security Service, Jonathan Evans, Baron Evans of Weardale. While James Bond is synonymous with Aston Martins, Jonathan will provide insight into the real spy cars of the day.
Other unexceptional experts on the judging panel include Danny Hopkins, editor of Practical Classics, Sam Skelton, former news editor of Classic Car Weekly, Tanya Field, unexceptional aficionado and organiser of the Pride of Longbridge and Jon Burgess, motoring blogger and motoring writer Classic Car Buyer.
Angus Forsyth, Managing Director of Hagerty, said: "The Festival is a great opportunity to remember the seldom celebrated cars that were once so common. Don't let their boxy appearances fool you ¬- some of these mass-produced motors are now rarer than the supercars of the time. Indeed, there are more Lamborghini Diablos on the road than Hillman Hunters"
Danny Hopkins, a leading authority on the unexceptional era, said; "Cars are like people – just because they have failings doesn't mean we don't love them. What's so special about the Festival of the Unexceptional is that everyday models from the past are brought together in a wonderful environment of forgiveness.
"We have a unique chance to get up-close to once commonplace cars, many of which have almost totally disappeared, and remember how happy we were with relatively little sophistication. It's a chance to look at such long vanished features as the choke, manual window winders and cassette players. There's no car event like it anywhere that's so evocative of ordinary motoring of the past."
Hagerty's Festival of the Unexceptional, featuring the Concours de l'Ordinaire, will be held at Whittlebury Park Golf & Country Park, Whittlebury, NN12 8WP between 10 a.m. and 3 p.m. on Saturday 25th of July. Entry is free, and visitors are encouraged to bring their own classic cars, Unexceptional or not! More information and a map is here: http://www.hagertyinsurance.co.uk/Articles-and-Resources/Events/Festival-of-the-Unexceptional