Drive-It Day is one of the highlights of the classic motoring year. The FBHVC's country-wide push to get classic vehicles onto the roads is a huge success, as a trip down almost any road that day will testify.
Hagerty's contribution is the Drive-It Day Tour- a 75-mile jaunt from Towcester Racecourse, via some lovely Cotswold roads, to Bicester Heritage for their Sunday Scramble event. We are limited to 100 cars, and this year we were full weeks before the off.
How much is your car to insure? Find out in four easy steps.
Get a quote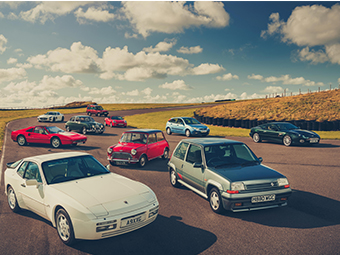 The weather was good, if a little chilly, as the cars arrived at Towcester early on Sunday 23rd April 2017. It was a great way to celebrate St George's Day, and we were joined by one of the most diverse and beautiful collections of classic cars that we've seen in a long time. The ubiquitous Jaguar E-Types were present, but also everything from a stunning Alfa Romeo Spider Duetto in Verde Inglese paint to a wonderful early twin-headlamp Corvette. The whole spectrum of the classic car enthusiasm was on show: stately Rolls-Royces led Unexceptional Vauxhalls, modern classic Volkswagen Golfs and poised Datsuns.
Duly fed with coffee and bacon rolls, the procession left… well, most of it did. Hagerty MD Angus Forsyth's usually reliable Jensen Interceptor let itself down somewhat. Fortunately, thanks to Hagerty's partnership with the RAC, a helpful man in an orange van was following up the classic cars, and soon managed to rescue our stranded leader.
Similarly, the two Toms from Spoke Mag had a few teething problems with our Ford Escort, but were smiling nonetheless by the time they set off.
The route for 2017 wound its way through some wonderful countryside and a number of Cotswold villages before looping back towards Bicester. Hagerty's procession were some of the last cars to enter the full-to-capacity show, and we were fortunate a large area had been reserved for us. Most people then went off to enjoy the show before picnicking between the cars.
Hagerty's Drive-It Day Tour 2017 achieved two really important goals again this year: we raised over £2,500 for charity, and also helped to show the rest of the UK what a vibrant pastime we have. We just can't wait for Drive-It Day 2018! #HagertyDID.