There has been a great deal of discussion in the classic car press about the state of the classic car market. Here's our summer 2017 take on some of the major market areas.
Enthusiast Market (sub-£30k value of car)
These are the bread and butter of the classic car market: everything from Ford Escorts to Alfa Romeo Spiders and Austin Minis. Traditionally, lots of people would buy and sell within their own comfort zone, be that a marque or era of car. The values in this market have risen at a relatively stable rate over the last few years as most of these cars are bought to be enjoyed rather as investments. For example, the average Hagerty Price Guide value of a Triumph Stag in late 2014 was £10,250; it is now £13,525. These value rises are sustainable and (barring a very significant change in legislation) we feel they are unlikely to alter significantly in the short to medium term.
How much is your car to insure? Find out in four easy steps.
Get a quote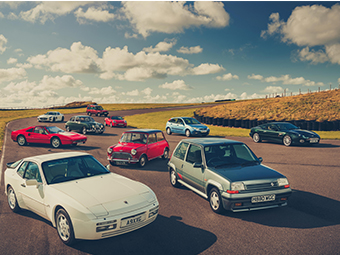 Investor Market (typically £50,000 to £250,000)
This market was thriving in 2014-2016. Many cars rose rapidly in value, and others jumped on the bandwagon to make money. In particular, cars such as the Porsche 911 2.4S have risen from a Hagerty price Guide top value of £46,000 in January 2012 to £219,000 in the current Guide. Furthermore, the Jaguar E-Type Series I 4.2 Roadster rose from a max of £87,000 to £188,000 in the same time. We consider the investor market to be the most volatile. Cars are likely to be bought as investments, and will be dropped if those investments start to depreciate. Also, if one car does particularly well at auction, there will often be a glut of those models that are placed onto the market to capitalise: we have seen this with more modern (1980s & 1990s) Ferraris. Otherwise, over the last 6-9 months, this market has been relatively quiet. We're sensing some consolidation, possibly due to global uncertainty: as a result, the very best examples of everything are selling very well but less-than-perfect cars are struggling.
Collector Market (typically £500k to £45m+)
This market is also about investment to a certain degree, but the collectors tend also to have an emotional connection to the cars, even if that is just being seen to own the 'right' car. The poster car in this category is the Ferrari 250 GTO, which still holds the record for the most expensive car sold at public auction ($38m in 2014). Prices have risen significantly, although this market is harder to track as many sales are completed behind closed doors. For example, $38m for a 250 GTO now seems tame – private sales mean the top HPG value is £53m.
Two other categories are worth mentioning:
The 'Unexceptionals'
These are the cars that used to be on every driveway- the workhorses of the common man. Although they are the most ubiquitous of cars, they are easily discarded and are now extremely rare. Hagerty celebrates them at the Festival of the Unexceptional (www.unexceptionalcars.com), a show that now attracts a huge amount of interest given the emotional link to these vehicles. Values are rising as a consequence: we have people buying these models simply so that they could enter our concours!
Modern Classics
Post-1980 cars have been exceptionally popular over the last 18 months or so. People started to realise that they were practical, safer than old cars, relatively cheap to buy, and yet classy and fun. In particular, the Ford Capri 2.8i has risen from a top value of £6,750 in January 2012 to a £22,100 in the current guide (with the limited edition Brooklands model at £49,200). Other risers have included the VW Golf GTI and Peugeot 205. These are the cars your cool (or rich!) friend owned in the 1980s.