2015 has by all measures been a great year for classic cars and bikes. We've selected a few of our highlights of the year, one for each month.
January: Scottsdale
How much is your car to insure? Find out in four easy steps.
Get a quote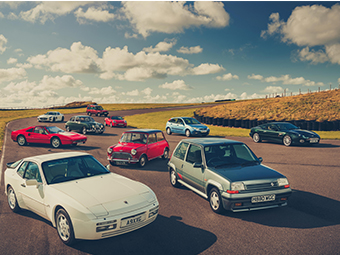 After all the concerns about a possible market slow-down, 2015 began with a bang at Scottsdale in Arizona, the traditional start of the US auction season.  Records tumbled: nearly $300m of cars were sold in a week with an astonishing 86% sell-through rate. For Hagerty, the biggest story was the rise in the numbers of 1980s and 1990s cars being sold- a trend that we were to see continue throughout the year. Click here for more.
February: Baillon Collection Sale at Artcurial
In early February, Artcurial sold Roger Baillon's collection of 59 classic motor cars. They were barn-finds in the truest sense of the word- classics stored for many years in dusty sheds for a motor museum project that never came to completion. The buying public fell in love with the romance of the story, and in particular a Ferrari 250 GT California SWB Spider that had once been the property of Alain Delon. It sold for 15.94m Euros, setting a new world record for a covered- headlamp California Spider. Click here for more.
March: High Air-box F1 Cars- Goodwood 73rd Members' Meeting
The Goodwood Members' Meeting returned with a stella line-up of cars and drivers, with exceptional access for the general public. Our highlight was the ear-splitting noise of the 1970s high air-box F1 cars, especially James Hunt's Hesketh 308C that was driven by his son Freddie. Click here for more.
April: Drive It Day
Hagerty's Drive it Day 2015 saw a group of 100 classic cars driven 72 miles from Towcester via the Cotswolds to Bicester Heritage, all in the name of charity. Hagerty raised a total of £2,500 for the Northants Air Ambulance and Towcester Food Bank, and everyone had a great time! Click here for more.
May: Beaulieu Spring Autojumble
We love Beaulieu, especially when the National Motor Museum opens its doors to the autojumblers. The sheer scale of the event means that, whatever your classic, you can probably find something of use if you hunt hard enough. This year we went behind the scenes at Beaulieu- read more here.
June: Le Mans 24 Hours
This isn't a classic affair- we have to wait until 201 for the Le Mans Classic- but there is such motoring history tied up in the DNA of this epic race that it always features as one of our highlights. This year Porsche dominated the overall standings- something they have done more than any other manufacturer since they first won in 1970 with the Porsche 917-023. Corvette won the GT Pro Class, and we looked back at their history at Le Mans here.
July: Hagerty's Festival of the Unexceptional
OK, so we are the organisers of this event, but for us it is our highlight of the year. We just love seeing the cars as they arrive, spotting vehicles that were once everywhere but are now so rare. This year the Concours de l'Ordinaire was won by a 1978 Ford Escort, with other prizes being won by a Fiat 127 and a 1974 Hillman Avenger Super Estate. "My dad had one of those!" is now the unofficial motto- we can't wait until the 2016 event! Read more here.
August: Prescott Hillclimb
Established in 1937, the premier Vintage Sports Car Club (VSCC) annual hillclimb event attracts a huge range of very interesting pre-war cars. They may be old, but these cars are raced hard- one of our highlights this year was watching Tony Lees in his 1930 12- litre Vauxhall Viper Special power slide around the orchard bend on each run. Click here for more.
September: Brighton Burn-Up and Ace Café Reunion
Brylcreem, quiffs, café racers and rock 'n' roll: what could be more fun than a trip back in time and a ride from the Ace Café down to Brighton? First established in 1994 to commemorate the 25th anniversary of the closure of the original Ace Café, the Reunion is now held annually. Ian Kerr attended on behalf of Hagerty this year- read his article and a history of the Ace Café here.
October: Colton Ferrari Sale, H&H Duxford
Classic vehicles can be beautiful engineering masterpieces, but what brings them alive are their stories. Now and again a truly magical tale emerges, such as the one of Richard Colton. He was a car collector who loved to use his cars, touring Europe in his Ferrari 250 GT SWB and 275 GTB/4. When he died, he left his collection, including these two cars, to the RNLI. We were at H&H's Duxford sale in October when this generous gift raised over £8.5m for the charity- what a fairy tale ending. Read more here
November: HERO Classic Driving Day
We sent Tim, one of our Client Service Advisers, to spend a day driving some of the Historic Endurance Rally Organisation's (HERO) Arrive and Drive fleet of classic cars. It's a hard job, but someone had to do it! Tim toured the Oxfordshire countryside in a Ford Cortina 1500GT, a Triumph TR4A, a Jaguar XK 150 and an MG A. Read more about his day here.
December: Aston Martin DB4/GT Zagato, RM Sotheby's New York
Back in August a McLaren F1 became the most expensive British car ever sold at public auction, selling for $13.75m (£8.8m). The record didn't last long. At Rm Sotheby's Driven By Disruption event on 10th December, an Aston Martin DB4/GT Zagato took its crown, selling for £9.45m. Ercole Spada designed some superb cars for Zagato, including the Alfa Romeo SZ and TZs, but the DB4/GT Zagato is arguably his most beautiful design. What a way to end to 2015!
That's Hagerty's classic highlights of 2015. How will you remember this year?