Hagerty asked some of the UK's leading experts which cars they suggest are those to watch in 2019. Here's what they said.
Russ Smith, Valuation Expert, Classic Cars Magazine
How much is your car to insure? Find out in four easy steps.
Get a quote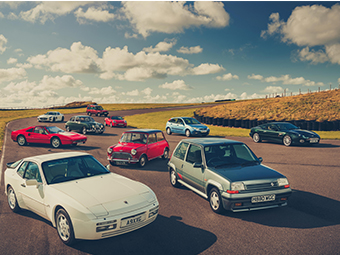 "It's a bit left-field but the Saab 96 V4 looks chronically undervalued for a cute car with all that rally heritage."
Hagerty Says: The Saab 96 was dominant in rallies throughout the 1960 and '70s, with some of the most famous drivers like Blomqvist, Carlsson and Pat Moss piloting the cars to victories in the RAC and Monte Carlo rallies, plus other WRC wins. The Hagerty Price Guide has seen the 96 V4 increase by around 34% in the last five years, with our Condition 2 (excellent) value now standing at £7,000 but with superb, rally-prepared cars reaching into the mid-teens. We agree with Russ: they seem undervalued, especially given the present interest in road rallying events.
Richard Barnett, Auction Expert
"X300 Jaguar/Daimlers, and especially the V12s. Great looks, along with inheriting the 'Series' cars' performance and ride. Still criminally cheap, but good ones are getting harder to find."
Hagerty Says: With very limited production runs of both Jaguar XJ12s and the Daimler Double Six, and with the former being the last Jag to be powered by a V12 engine, these cars tick many of the boxes to become solid classic fare. Even the big-engine versions are available from £3,000 upwards, but Richard is right: good ones, with comprehensive history are hard to find.
Matthew Parkin, Brightwells Auctioneers
"It would be a Fiat Panda 4×4. Cute, popular with young drivers and a design icon (Guigiaro claims it as his most 'successful' design), there are still a few about, parts are cheap, they are massive fun to drive and will go anywhere. They are also classless."
Hagerty Says: First sold in the UK in 1984, the original Fiat Panda 4X4 was a ground-breaking small car, and one that still turns heads today. Later 999cc FIRE engines are more numerous, and the most collectable are the 4X4 limited editions such as the Sisley and Madagascar. Expect to pay £1,200 for a runner, but auction results of great ones have reached over £11,000.
Gary Axon, Goodwood Road Racing Company
"I'll go a tad off-road (literally) and opt for the original 1989-98 Land Rover Discovery Series 1, particularly in its early three-door form. These are still attainable, though now getting scarce, many either succumbing to rot, a tough working life – being poorly maintained and mis-treated off-road or modified for extreme four-wheel-driving activities."
Hagerty Says: The build quality of the initial Austin Rover-era Series 1 Discoveries wasn't great, with cars suffering fragile interiors, temperamental electronic and weak chassis and suspension components (driveshafts, CV joints, rear axle shafts, and so on). Today though, find a good one with minimal rust and a clean interior, and it will make a great long-term bet. Prices start at around £1,000 and rise to well over £6,000 for the very best.
Jeremy Jackson-Sytner, 'Mr Concours'
"My tip… the Audi R8. It's well built, ergonomically sound and very reliable. An everyday supercar. I like its understated looks – as though an architect created a four-wheeled rocket in the Bauhaus style. Here is a car with little distinction between form and function, absent of any unnecessary superfluous ornamentation so profligate on the great majority of today's supercars."
Hagerty Says: The Audi R8 already ticks many of the boxes of an emerging classic: it is an aspirational car for many Millennials and Gen Z, combines performance with style, and starred in various films… Let's face it, Iron Man's car is always going to be cool. Tuning and styling kits will also make this a great blank canvas for modders. Although higher-mileage 4.2 V8s are now under £30,000 it is the 5.2 V10 that will probably hold its value in the long run, and coupes will probably fare better than the Spyder.
Damian Jones, H&H Classic Auctions
"I choose the Alfa Romeo SZ/RZ 'Il Monstre'. They are rare, brutishly handsome, technologically interesting, fun to drive, with a soulful engine and with a great pedigree. Their values may also benefit from Zagato's 100th anniversary. If I had to choose one, it would be the SZ coupe."
Hagerty Says: The Alfa Romeo ES30 SZ is a controversial choice, as even many Alfa enthusiasts struggle with its styling, and Zagato's build quality at the time was poor. That said, it is an exceptional car: the wonderful Busso 3.0 V6 is possibly Alfa's finest post-war engine, and with the Hagerty Price Guide's average value of £41,500 the SZ is now one of the cheapest Zagato-bodied Alfas to buy. Some are now being restored to better-than-new condition; values won't stay low for long.
Tell us your car to watch in the comments below!