In 2018, the Goodwood Revival marked its 20th anniversary in sublime style. Many of the same faces were there decades on, albeit maybe with the odd extra wrinkle, as were some of the cars although the Revival has now morphed into a world-class event that sets the standard for historic racing.
Where else could you see an estimated £200m of cars racing into the sunset? This year's Kinrara Trophy did just that, and the line-up was extraordinary: ten Ferrari 250 SWB (including the winning 'Bread Van'), a 250 GTO, a 330 GTO, four Aston Martin DB4GTs and a host of E-Types.
How much is your car to insure? Find out in four easy steps.
Get a quote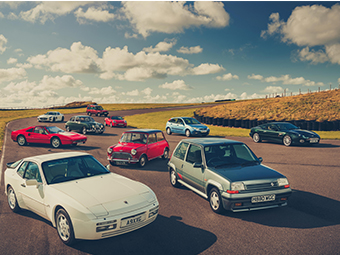 All forms of other historic racing types are also covered, from motorcycles up to 1954 (Bary Sheene Memorial Trophy), 1958 saloon cars (Jack Sears Trophy), 1950s Grand Prix cars (Richmond & Gordon Trophy) and even pedal cars (the Settrington Cup). All in all, seventeen classifications over three days cover cars from the 1920s to 1966 when the Goodwood Circuit originally closed to racing.
Goodwood though is so much more than the racing. Its charm is the magical atmosphere that the Duke of Richmond brought to his motor circuit from the very first days of the Revival. The entire place is dressed like a film set: stands, buildings, cars… this year even a steam locomotive, the place really is (as the literature proclaims) a magical step back in time. Hundreds of actors (the Goodwood Actors Guild) play parts ranging from cleaners to taxi drivers, all mingling with the crowd.
But it is this crowd who make the magic work. Almost everyone enters into the spirit of the occasion: those in modern dress look out of place next to the ranks of those wearing 1960s frocks, men in 1940s Royal Air Force uniform and others dressed as '60s greasers. Go 'over the road' (as it is known) beyond the rows of stands, bars and amusements, and you enter the pre-1966 car park. Here is a show all of its own: row upon row of the most exclusive classic cars, from Bentley Continental Fastbacks and Aston Martin DB5s to pre-war Bentleys. They say that if you want to see any classic car up close, go to the Goodwood Revival car park, as one will be there.
We judge the Hagerty Bucket List on three criteria: Size, Excitement and Diversity, all ranked out of five. Here are the scores for the Goodwood Revival:
SIZE: XXXXX It's huge: every famous driver and pretty much every famous car of the era, will be there.
EXCITEMENT: XXXXX You just can't get closer to historic racing action or rub shoulders with any driver of note.
DIVERSITY: XXXX Drops a star for being pre-1966 only, and for some repetition (if you've been there very year) but still amazing.
With 14/15, the Goodwood Revival is an absolute must for any fan of historic cars or racing. Wherever you are, make a pilgrimage at least once. It is at the very top of our Bucket List.