The other events listed on Hagerty's Bucket List are mostly similar in a lot of ways: they are well-established, appeal to a wide range of 'car people' and are household names. Luftgekühlt is none of these things.
Luftgekühlt means air-cooled, but you won't find any VW Beetles, Citroen 2CVs or Trabants at one of their meetings, just Porsche. In fact, to call them 'events' oversimplifies the situation: Luftgekühlt is a culture of people dedicated to the love of one brand. Part coffee meet, part hardware display, they attract some of most legendary names associated with the Porsche brand: Magnus Walker, Patrick Dempsey, Singer. Starting just four years ago in 2014, the first meet held just fifty cars in a parking lot next to the Deus Ex Machina storefront in Venice, California. Each year the events expanded and the list of exceptional cars grew; Luftgekühlt 5 this April attracted a 904 Carrera GTS, a 908 Short Tail, a 917/10, plus hundreds of other cars: 935s, 911s, 356s, 914s… Porsche heaven, if you're into that sort of thing.
How much is your car to insure? Find out in four easy steps.
Get a quote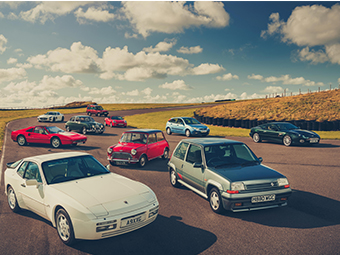 Even if you're not, Luftgekühlt is still worth attending as a spectator sport, or a general motoring experience. Everything about Luftgekühlt is cool, from their hats and teeshirts to the location of their meets: Luft-5 as held in a timber yard in Torance just south of LA, a nod to the lumber barn at Gmünd in Austria where Porsche was born.
But what if you don't live in southern California? Don't fret: on Sunday 29th July 2018, Luftgekühlt is coming to the UK; to Bicester Heritage to be exact. With a huge number of Porsche legends (both human and automotive) still in the UK following Porsche's 70th anniversary dominance of this year's Goodwood Festival of Speed, the event will be worth attending.
We judge the Hagerty Bucket List on three criteria: Size, Excitement and Diversity, all ranked out of five. Here are the scores for Luftgekühlt:
SIZE: XXXX It's not just a show, it's a culture. Watch it spread worldwide…
EXCITEMENT: XXXX If you're a Porsche nut, it's 5/5 but a little less for other mere mortals.
DIVERSITY: XX Just Porsche. Just aircooled.
With 10/15, we feel Luftgekühlt deserves a place on the Hagerty Bucket List.