The oldest event on Hagerty's Bucket List is also the longest-running car event in the world: The Veteran Car Run, more commonly known as the 'London to Brighton'.
Back in November 1896, British motorists were delighted at the passing of the Light Locomotives on the Highway Act that raised the speed limit to 14mph and abolished the requirement for cars to be preceded by a man on foot waving a red flag. To celebrate this motoring 'emancipation', The Motor Car Club of Britain, established by Daimler founder Harry Lawson, drove their cars from London to Brighton. Starting with breakfast at the Charing Cross Hotel, the run was initiated by Lord Winchelsea who symbolically tore a red flag in two.
How much is your car to insure? Find out in four easy steps.
Get a quote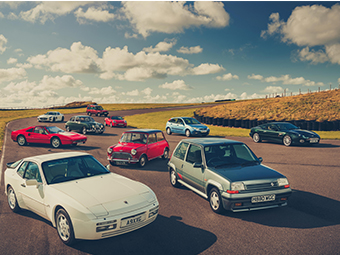 The Run was initially revived in 1927, and since 1930 it has been owned and organised by the Royal Automobile Club. An annual event run on the first Sunday in November, it now attracts over 400 vehicles, all built before 1st January 1905, which congregate in Hyde Park and drive south to finish at Madeira Drive in Brighton where medals and pennants are awarded to finishers.
So why is the Veteran Car Run on Hagerty's Bucket List? It's simply unlike any other motoring event. The entire spectrum of very early car design is represented from fire-spitting steam-powered vehicles to delicate petrol buggies with tiller steering. The passengers, invariably wrapped in many layers against the winter weather, seem perched on top as if an afterthought. All along the route, cars are cheered by onlookers and the Run has a festival atmosphere. Completing the event as a competitor is a true act of motoring endurance: working your way through modern traffic with vague steering and ineffective brakes is frequently terrifying, and managing the course without a breakdown is a remarkable achievement. The celebratory hot meal and glass of wine at the finish line in Brighton feels like a meeting of survivors. Every petrolhead should experience this wonderous motoring event at least once.
SIZE: XX Not the largest, but definitely the most enduring.
EXCITEMENT: XXXX Low-speed but terrifying!
DIVERSITY: XXX Everything built before 1905, but huge diversity from a time when there were no standards.
With 9/15, The Veteran Car Run is a once-in-a-lifetime experience.