Whatever you expect of Monaco – the cars, the people, the extravagance – the reality will surpass your imagination. This tiny enclave clustered around a couple of natural harbours is a people-watcher's paradise at any time of the year, but during the Grand Prix de Monaco Historique this moves up to a different level.
The first thing that strikes you, even before the racing starts, is how close you can get to the cars. Monaco, the most well-known track in motorsport, winds its way past pavement cafes, in front of exclusive shops and along the seafront; without the racing cars, this place would be a relatively sleepy seaside town. It's like dropping a Nascar race on Padstow.
How much is your car to insure? Find out in four easy steps.
Get a quote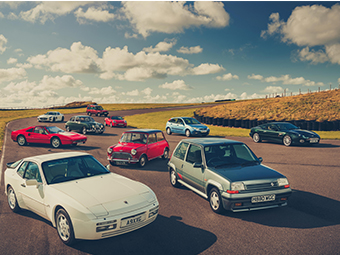 When the engines start, the whole of Monte Carlo is overwhelmed by the noise. No quiet, modern 1.6 Litre V6s here, just ear-splitting, petrol-guzzling racing car engines of the old school. Then there's the smell: Castrol R with a hint of Chanel No. 5.
Finally, for the lover of pure racing, there's a superb spread of cars. In 2018 this ranged from Will I'Anson's 1926 Bugatti 37 through to the 1980 ATS D4 driven to victory by Martin O'Connell, racing in seven grids according to classification. Plus, they don't hold back: Bjorn Wirdheim drove a 1971 March 711 to victory in Race E (F1 cars, 1966 – '72) with an average speed of 119.16 mph.
Even off the track, the cars are great. This year, RM Sotheby's held an amazing auction with some spectacular cars including the pictured Ferrari 250 TdF, and driving around the streets you'll find classics everywhere.
Unfortunately, if you want to go to the Grand Prix de Monaco Historique, you'll have to wait a while: it takes place every other year, and the next event is scheduled for May 2020. Better start saving!
We judge the Hagerty Bucket List on three criteria: Size, Excitement and Diversity, all ranked out of five. Here are the scores for Grand Prix de Monaco Historique:
SIZE: XXX It's a both huge and tiny: loads of cars, loads of people, all crammed into a very space.
EXCITEMENT: XXXXX Noise, people, superyachts, superb racing: it really doesn't get any better than this.
DIVERSITY: XXXXX Huge field of cars and great drivers on the track; all manner of classics off of it plus auctions. Monaco is a petrohead's dream.
An automotive highlights list without Monaco would be inexcusable; with a total of 13/15, the Grand Prix de Monaco Historique secures a firm slot on the Hagerty Bucket List.