With only a few weeks now until Hagerty's 2017 Festival of the Unexceptional, we thought we would share some of the wonderful cars that have made it through to this year's Concours de l'Ordinaire.
In early June, a judging panel of myself, Hagerty's Marcus Atkinson and Tim Sawyer, plus Gary Axon from Goodwood Cartier Style et Luxe fame met to consider the entries. With nearly 120 wonderfully 'unexceptional' cars to choose from, the task of selecting just 45 was a difficult one, to say the least.
How much is your car to insure? Find out in four easy steps.
Get a quote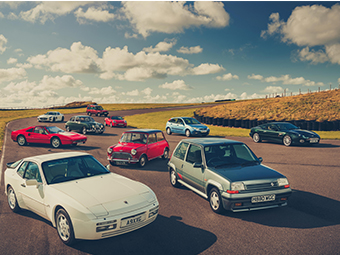 Firstly, the team ruled out those cars that had entered the concours in previous years. Then those that fell outside of the spirit of the competition were excluded: a wonderful Alfa Romeo Giulia GTAm was just far too exotic for this particular competition. Then, the stories, pictures and details of each of the rest were considered. You'll have to wait until 22nd July to see the full line-up, but here are three of the finalists to whet your appetite.
1990 Fiat Tempra 1.8SX in Zermatt Grey (Gavin Bushby)
Gavin is an old hand at the Festival of the Unexceptional, having been runner up in 2015 with his Fiat 127. This Tempra – one of only two 1.8SX registered- was bought by him sight unseen and is in very original condition. The date of first registration and extraordinary list of optional extras (including electric windows, heated mirrors, electric sunroof and even full electric and heated seats – all working!) suggest that the car was a launch model. Gavin is the third owner from new, and although the car was registered a few months outside of our usual 1989 cut-off, we decided to use our judge's prerogative and give him a slot.
1983 Citroen 2CV Beachcomber (Lisa Dimbleby)
Some would consider Lisa Dimbleby's Citroen 2CV 'Beachcomber' a little racy for the Festival of the Unexceptional, with its blue decals and stripy seats, but with its basic spec and tiny 602cc engine, we thought this car deserved its place, adding a splash of colour to the earthy tones of the BL-inspired landscape. This car sat from 1992 until 2016 when, after a full nut-and-bolt restoration, it was returned to the road and is showing a little over 37,000 miles.
1989 Volvo 740 GL (Simon Martin)
This Volvo, known affectionately as the 'Very Big Motor' due to its VBM registration, was bought new by Simon Martin's family. Since then, it has lived the epitome of an Unexceptional car's life: with over 200,000 miles on the clock, it has taken them shopping, on holiday, to school, ferried Simon to university and even taken an entire Euro pallet of his children's books in the back. In 2007, a drunk driver caused a crash with a lamp post that nearly ended the story, but the VBM survived with a dented wing and a broken headlamp. Two years ago, a gearbox problem was almost terminal before Simon found one on eBay and decided to restore the Volvo to its former glory. Now she's fully restored and looking forward to another 1,000-mile trip to France to take pride of place at a family wedding. Oh, and the small matter of the Concours de l'Ordinaire!
Hagerty's Festival of the Unexceptional celebrates those workhorses of the motoring world that have survived long enough to become classics. This year, it takes place on 22nd July from 10am to 3pm at Stowe House, MK18 5EQ and it is totally free to enter. All classics are welcome to attend, and free classic car forward parking is available if pre-booked. Tickets and more information can be found here.