Merlin McCormack's classic car brokerage, Duke of London, has already established itself as an organisation with a very individual take on the industry. However, housed as it is in the same stable block as father Lance's Romance of Rust restoration business, this has never been an entirely stand-alone affair. Rather, the different core activities of the two companies have always worked in a complimentary manner. The chance to take on further premises in and around their shared courtyard has resulted in an additional, extended family of associated concerns joining them. The collective moniker that has been adopted for this enterprise is "Duke's Paddock."
Merlin talks of the Paddock as being 'London's first classic car hub.' One recent addition is Jonathan Goss who, working under the trade name 'Delicate Detailing' has been carrying out cleaning and detailing work for over 20 years. Jonathan explained how he sees this as a chance to move further into the classic and higher-end market, having now fulfilled the dream of creating a dedicated detailing studio. The advantages of being able to fine-tune his working environment was brought home by the lighting; Goss made minute adjustments as we spoke to give the perfect conditions for detecting the slightest of imperfections in a car's paintwork.
How much is your car to insure? Find out in four easy steps.
Get a quote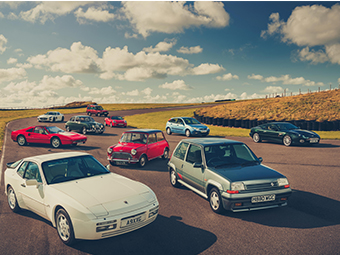 The last piece of the Duke's Paddock jigsaw comes in the form of Stewart Wells who inhabits the final workshop within the complex. Stewart is an established expert in mechanical rebuilds and race preparation. As such he is the natural choice to head up the new Classic Car Servicing arm. The overall ethos is that by having all these companies on a single site, all the classic car bases have been covered. As Merlin put it, "the Paddock will serve as a one stop shop for everything from paintwork, interior upholstery and engine rebuilds through to detailing, sales and storage."
My interview took place on the night of the Paddock's launch party. On our arrival in our MG BGT V8 we were smartly directed into place, having decided that guaranteed parking for classics made the use of this long-legged tourer the best option for the trip up from the south coast. In what seems to be the standard manner for parties at Duke, initial photography and journalism duties were hampered by catching up with myriad friends and locating the source of the abundant glasses of Champagne (drivers being catered for by various fizzy soft drinks). An air of easy going affability permeated the gathering as we wandered through a selection of cars as diverse as the party goers. This spread of interest was matched as much by the visitors as the stock for sale.
Possibly the most exotic car present was a Lexus LFA, one of only 500 made. Dramatic enough whilst parked, its V10 released an utterly spine tingling howl on leaving that matched even the most strident Matra F1 engine. Surely an 'instant classic' if ever there was one? Beyond the clutch of top-end Ferraris there was also a selection of altogether more affordable fare including a delightful collection of early Minis recently bought in as a part of the new venture, along with a brace of Fiat 500s. I must admit that, among those that were for sale nearer my own budget, I was rather torn between a barn find '40s Vauxhall saloon and a V12 Jaguar XJS.
Cars and bikes came and went during the night giving a constant supply of new machines to drool over. The arrival of a 'dropped' early 3 series BMW in vibrant orange drew several admiring glances as did – a little later – the black, stock Saab 900 Turbo. Two diametrically opposed examples of the 'retro' car scene and each appreciated equally in its own right.
As we mixed with the other guests the relaxed atmosphere, something not always to be found at car gatherings, was made all the more pleasant by a live jazz band tucked around the corner of the courtyard – this really was the classic car scene executed with some style. In short it was Duke launching a new venture as only Duke can.
The Duke's Paddock is near Kew Bridge in London, TW8 0JA. www.dukeoflondon.co.uk