Hagerty Classic Index Shows Slower Growth
In general, the UK classic car market has flattened-off since the summer. The new Hagerty Classic Index (which tracks 50 popular classic car values) has shown a rise of just 2.8% in the three months to December 2015, down from 7.7% in the previous period. Some of this is seasonal- a dip is normal after the flurry of September auction sales- but we have seen a slow-down in the rise in value of cars that had previously been on a steep upward trajectory.
Jaguar E-Type-Hype Calming
A good example is the Jaguar E-Type Series I 3.8 Roadster. This car has been a byword for significant price increases over the last few years, but this update has shown values of a Condition 2 car rise from £118,000 in July to £121,000 (a gain of just 2.5%). At auction, of the 38 Series I E-Types (of all models) we've seen go to auction from June to October, a total of 19 achieved the lower estimate or under, or failed to sell. Only nine achieved their top estimate or higher.
How much is your car to insure? Find out in four easy steps.
Get a quote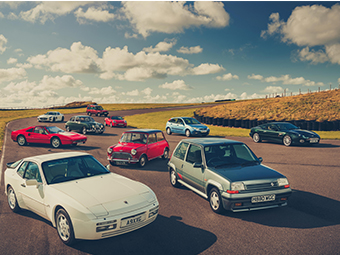 Other Jaguar models have had mixed fortunes. Mk I Jaguars have performed well at auction, although people want real quality: two Hawthorn replicas, both prepared by very well-known and respected preparation companies, sold very strongly (£66,000 and £51,750 respectively). Meanwhile the Mk II Jaguar did not fare so well- the average values of the 3.8 Saloon were unchanged in the three months to December.
Porsche Growth Mixed
The growth of the Porsche market was one of the big news items over the spring and summer of 2015, with some huge prices being paid- the £393,500 achieved for the ex- Richard Hamilton 911S at the Bonhams Festival of Speed sale being one of the high points. Since then, whilst growth has continued, the market has calmed, especially for 1960s and '70s Porsche 911s. For example, the Porsche 911 SC 3.0 Coupe has gained just 5.5% in the period (£38,2000 from £36,2000) compared to a huge 35% increase in the previous six months. The Porsche 928 GTS, which had risen firmly in value in the first half of 2015 slipped back slightly, losing 0.1% in value.
One model that bucks this slowing trend is the Porsche 911 996 GT3 RS. This car, new to the Hagerty Price Guide due to its young age, has just started to take off- one recently sold for £142,875, where a price of a quarter of this value would not have been unusual only 18 months or so ago.
Ferrari: Quality Still Sells
Top Ferraris are still in very much in demand. The ex- Richard Colton Ferrari 250 GT SWB and 275 GTB/4 were good examples of this- both well-known cars with excellent provenance and extensive history; both achieved superb results on the day for H&H Classic Auctions (£6.6m and £1.93m respectively).
Values of the Ferrari 308 GTB and Ferrari Testarossa, both of which have achieved significant percentage value increases over the last 12 months, have continued to rise, but at slower rates. The 308 GTB achieved an average gain of 6.5% in the last quarter (down from 10.4% previously) and the Ferrari Testarossa a rise of just 0.9% to an average of £136,250.
'80s Cars Still Hot
Cars from the 1980s are still very much in vogue. These cars used to be called emerging classics, but we've come to accept that they now form the mainstay of many dealer and auction house catalogues. In particular, the BMW E30 M3 continued its spectacular rise, gaining a strong 14.4% increase (£31,800 from £27,800).  The DeLorean DMC-12 was another, which gained 8.3% on average and with the very best examples now valued at over £50,000.
MGCs Are Rising Stars
Most MGs have been increasing very slowly over the period, with the exception of MGCs which have been moving upwards rapidly. As an example, the MGB-GT increased by 0.8% (£12,600 to 12,700) whilst in the same period the MGC-GT increased 10.9% (£15,600 to £17,300). Good examples of this previously rather unsung MG have been performing well at auction, with half of those selling for top-end of estimate or above.
Conclusion
The Hagerty Price Guide Q4 2015 shows the classic car market in the UK is still growing, but at a slower rate than in previous quarters. Some of this slow-down is seasonal, and values are expected to pick up again in Q1 2016.
Read more about here about the cars that make up the Hagerty Classic Index or check the value of your car in the Hagerty Price Guide with our Valuation Tool.
All values quoted are those for a Condition 2 car ('excellent') unless otherwise specified.