The big news this week is the result of the Retromobile sales in Paris that prove the classic car market in 2016 is still anything but boring. We've decided to dedicate the whole of Hagerty News this week to the story.
The Retromobile bonanza started with RM Sotheby's sale on 3rd February. The headline sales were a 1955 Porsche 550 Spyder by Wendler that achieved €2.74m (with commission) and a1957 BMW 507 Roadster that sold for a shade over €2m. A superb Lancia Delta Integrale 'Martini 6' also achieved a record- breaking €134,000 and the humble Willys MB Jeep continued its upward trajectory with a very original example selling for €53,200.
How much is your car to insure? Find out in four easy steps.
Get a quote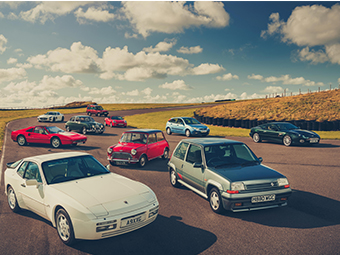 But the rest of the auction was not as strong, with approximately 75% of lots selling for below mid-estimate and 17 cars failing to sell on the night. Two cars that have previously sold well- a 1989 Ferrari Testarossa and a 1981 Lamborghini Countach LP400S- both sold, but well under estimate.
The story was repeated the following day at the Bonhams sale at the Grand Palais. The headline was a nice Ferrari 275 GTB which sold for €2.07m, a shade over the Condition 3 value for such a car in the Hagerty Price Guide. A 1974 Aston Martin V8 sold very strongly for €126,500 and a Maserati Sebring topped its estimate by selling at €230,000 (both including commission). But elsewhere, only 75 of the 130 cars offered sold on the night, with very few above the mean estimate. In particular, in a trend we predicted here, only one of three Ferrari Testarossas on offer sold on the night, and then at below low estimate.
But just as everyone was about to write off the start of the 2016 auction season as sluggish, along came Artcurial. At last year's Retromobile, they stole the show with the Baillon collection. How would they follow this success? By commissioning one of the most exceptional racing Ferraris, a 1957 ex- Works 335 S Scaglietti Spider, driven by a Who's Who of racing drivers (Moss, Von Tripps, Hawthorn, Collins and Gregory) and kept in the collections of both Luigi Chinetti and latterly Pierre Bardinon. The car sold for a shade over €32m- if you take exchange rate fluctuations into account, (and the fact that Artcurial quote tax in their total, unlike most other auction houses,) this is either just the most expensive car ever sold at public auction, or just the second- either way, it's a lot of money.
However, the real story of Artcurial's success wasn't the headline-grabbing Ferrari, but the other strong results they achieved. On the Saturday morning, they held a dedicated Citroen sale, playing to their home market. It worked- all but one of the cars sold, and six achieved world record prices including an astonishing €172,800 for a Citroen 2CV Safari, original but in need of full restoration. Success wasn't restricted to French marques either: an Alfa Romeo Giulia Sprint GTA sold for more than double its top estimate at €441,000, a 1961 Austin Mini Countryman, restored beautifully but with a non- original engine made €60,792 and a 1971 BMW 2002 Cabriolet made a huge €61,984. Even with commission and taxes added, these figures are big. OK, so Artcurial also had their misses (most notably a 1963 Ferrari 250 GT SWB that went unsold) but you do have to wonder what they put in the coffee.
For a full analysis of the market, including all major and provincial UK auctions, subscribe to the Hagerty Classic Cars newsletter and be sure to get a quick online quote for your classic car insurance.