The Blast House. If you've ever been blessed enough to set foot inside the time-machine-come-classic-car hub of Bicester Heritage, you'll know the one. With an impenetrable concrete wall surrounding the actual building, it's hard to tell exactly what lies within. The answer? James Mitchell, and his company Pendine Historic Cars.
As I look across the vast turquoise cavernous interior that lies beyond the concrete and steel doors – all designed to protect stored explosives – James peeks out of his office door and beckons me over.  The room is packed to the rafters with E-Types, Astons, MGs, and many other lovely machines, and it takes me a while to work my way through the gauntlet of priceless classics. Then, within the next 45 seconds I'm introduced in rapid succession to his father, wife, newborn child, and finally, his dog. It's safe to say he's a family man, and a supremely warm one at that.
How much is your car to insure? Find out in four easy steps.
Get a quote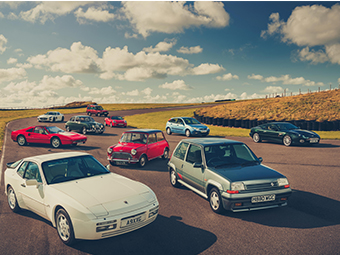 But James is also a businessman. Previously heading up the fantastically successful Fiskens for over a decade, James established his own venture a couple of years ago and called it Pendine, after the famous land speed record location in Wales. The Bicester Sunday Scramble seemed like as good an opportunity as any to find some time to catch up and find out exactly what makes a business like this, and the man behind it, tick.
What was your first car?
Bought by my father as a Christmas present when I was eleven years old, it was an 850 Mini. I remember it was significantly less money than my friend's hi-fi player which he received on the same Christmas!
I think the only car I ever got for Christmas came with an Action Man driving it! You were always surrounded by cars, then?
I got the car bug from my father. We've always had old cars – everything from Land Rovers to a Brabham F1 car for a while that sat at home, American Cars – stuff was always coming and going. We were constantly playing, doing engine rebuilds, restoring the Mini. One of my earliest memories was going to the Silverstone Classic in the early '80s. I suppose I never had a choice, my career was always going to be something to do with cars. However, I did a degree in theology.
So, a career involving old cars was somewhat predetermined?
I was on a train from Edinburgh to London, and I saw an advert in the back of Motorsport Magazine for a showroom cleaner at Fiskens in London, so I went and joined them. After a few years I became their business manager, holding that post for eight years; 11 years in total. Then I took a year out, wrote a book on Jaguar, and then started this place. Jaguar is what I really know- we've always had them. An XK140 Fixed Head Coupé was in dad's garage, which we restored. They were everywhere as I grew up.
What was the impetus for starting Pendine?
I wanted to create a bespoke, very high-level company, with very educated and knowledgeable staff, who can provide a great service to clients.
What drew you to the Blast House as your venue?
I think you can go down two routes. You can have a shed in the countryside, which gives you cheap rates, or you can try and start up in London, which apart from the initial overheads, isn't a place for old cars anymore. London used to be the best place to buy cars, in the lovely mews garages. Unfortunately, you can't go for a decent test drive now. It's not a safe or healthy environment for old cars. When I saw the Blast House, I knew it was the perfect venue. There are always things to improve, but managing a grade-2 listed building – one of historical importance – it's complex. Because of the blast walls, we're constantly trying to work with humidity and temperature. I like the challenge of working with something of such importance – Bicester is the best-preserved pre-war military airfield. To be a part of its rejuvenation is great, and I think we were the fourth business overall on site.
Let's talk about the market. From your perspective, where do you see it?
The market does not take prisoners. I think there's a phrase something along the lines of 'a rising tide lifts all boats'. That was the market for years – when one thing went up, everything went up. That's no longer the case. Only the very best individual example, be it a Jaguar XK or a Jaguar C-Type – will sell well.
What changed?
Not wanting to harp on about Brexit, but a lot of uncertainty came to market about that time. I don't think it's because of Brexit but it was a trigger – the market needed to cool off, it had got just a little frothy, and I think it's settled. There's a lot more realism in the market now, and that's a healthy thing. There were a lot of speculative, not established dealers, who are out there – who don't know their market, or their product, who thought they could make a buck quick. They are the people I get phone calls from now, not knowing what they bought or why they bought it, and they overpaid for it.
I think ninety percent of the market will stay stable for certainly the next three, possibly five years. I think there will be continued growth at the high end, the best models of each car, but I think overall it's reached a nice and stable level. It was much needed. It's cut the wheat from the chaff.
Finally – how would you describe your mission and your future at Pendine?
Pendine is about me and what I want to do, and how I want to go about doing it. We're in the process of carving a unique position. This is a market that at times is quite dysfunctional and antiquated. I'm trying to keep it small for the moment, focusing on cars that I know and like, to do the best of what I can. It's growing – we're three years in and we've doubled out profit year on year since we started, which I think is excellent. But I don't want to take over the world!
I'm sure you could if you wanted to! Thank you so much, James.
Thanks are owed in spades for the time away from family that James was kind enough to give us for our chat. I left the warmth of the Blast House to venture back into the cold Sunday Scramble feeling better than ever about our collective obsession with old cars. It's good to know that the future of the market is in the hands of people like these.
Find out more about James and Pendine at Pendine Historic Vehicles