There comes a moment in the life of most classic car drivers when it's time to add a torque wrench to the tool collection.
You don't have to be fluent in vehicle restoration to appreciate the many uses that they have. From securing a set of wheels in place to evenly fastening a cylinder head, they allow clamping loads to be applied correctly and according to a vehicle manufacturer's recommendation.
How much is your car to insure? Find out in four easy steps.
Get a quote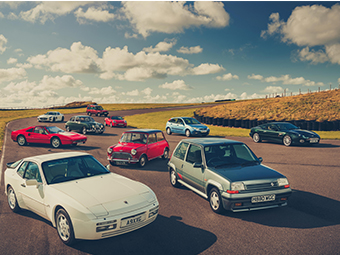 However, for those who are comfortable rolling up their sleeves and taking on more challenging tasks, from removing and replacing sagging old suspension components to dropping out a gearbox for a rebuild, a torque wrench is rarely far from reach.
Although digital torque wrenches are on the market, the most common types remain conventional, mechanical tools. They cost from around £30, but the very best could be closer to £100. Reputable brands include Clarke, Draper, Halfords, TriTorq and Sealey.
But the question remains, what is a torque wrench, how does it work, and what, even, is a measurement of torque? In this video, from the Hagerty DIY series, Davin Reckow gets back to basics and explains everything you need to know about choosing and using a torque wrench, and the potential pitfalls of adding an extension to fasten that hard-to-reach bolt that needs to be tightened to a specific setting.
Davin is Hagerty's resident gearhead who has rebuilt more cars than most of us have had hot dinners, yet he has a wonderful way of making complicated subjects seem simple. So take a moment to get to grips with torque wrenches.
Sleeping beauty: keep your classic fit and healthy during the extended hibernation with these experts' tips