There are certain events that every petrolhead should try to attend at least once in their lives. This is our selection of the best: Hagerty's Bucket List. This month, Angus Forsyth explains why he thinks Scottsdale Week should be included.
It is a cold wet January in the UK as I board a plane bound for sunnier climes in Scottsdale, Arizona. This is my annual pilgrimage to what is commonly referred to as 'Scottsdale Collector Car Auction week.'
How much is your car to insure? Find out in four easy steps.
Get a quote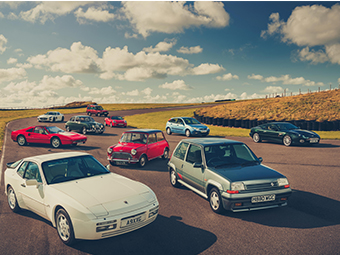 This is an absolute must for any collector car nut and I guarantee it will blow your mind, if for no other reason, the sheer enormity of the event. The week begins on Monday with American auction giant Barrett-Jackson kicking off proceedings. Their chosen venue is West World, a gigantic facility with 300,000 square feet of exhibition space sitting on 386 acres of desert. The main auction tent (if you can call it that) is the largest clear-span tent structure in North America and over the next 8 days will host over 300,000 visitors and sell 1,721 vehicles with a combined value of over $106m.
Alone, this would be a huge event but at Scottsdale, the fun has only just started. There are auctions by Bonhams, downtown Gooding & Co runs another show, and at the landmark Frank Lloyd Wright-designed Biltmore Hotel, RM Sotheby's hosts two days of sales. At the same time over at the Talking Stick resort, Russo & Steele hold a four-day auction bonanza and there are smaller sales by Woldwide Auctions and Silver. In total, 3,176 lots with a total value of $247.8m changed hands this year alone.
Once you get past the eye-watering figures, the sheer size of the event and the fantastically-American pageantry and drama of the drive-on rostrum, the next thing to hit you is the diversity of vehicles on offer. This year lots included a stunning 1965 Ferrari 275 GTB Speciale which topped the bill at Gooding selling for $8.085m and a very pretty 1958 Porsche 550A Spyder sold at Bonhams for a cool $5.17m. Elsewhere there were other fascinating vehicles: Gooding sold a wonderful Tuscan blue two door 1976 Classic Range Rover at $68,200, Bonhams a 1957 Lamborghini DL30 tractor for $40,700 and RM Sotheby's sold a wonderful 1/5th scale child's Mercedes-Benz 300 SLR in full Mille Miglia '722' livery for $25,200. Strangest lot of the week went to a 1974 Harley Davidson three-wheel golf buggy that changed hands for $4,400.
We judge the Hagerty Bucket List on three criteria: Size, Excitement and Diversity, all ranked out of five. Here are the scores for Scottsdale:
SIZE: XXXXX Scottsdale is vast, whichever way you look at it.
EXCITEMENT: XX American razzmatazz makes this the most exciting auction event out there.
DIVERSITY: XXXX A huge range of cars is on offer.
With a total of 11/15 we say Scottsdale deserves a place on the Hagerty Bucket List.