On Sunday 26th April, the Hagerty team once again brought together 100 classic cars for a countryside rally around Northamptonshire to raise money for key charities.
The Federation of British and Historic Vehicle Clubs (FBHVC)'s "Drive It Day" initiative brought together a mixture of popular favourites such as MGB GTs, Ford Escorts, Jaguar E Types as well as some rarer classics including an original GT40, Aston Martin DB4, DB5 and a small selection of vintage Rileys. Cars belonging to Hagerty team members were also in attendance.
How much is your car to insure? Find out in four easy steps.
Get a quote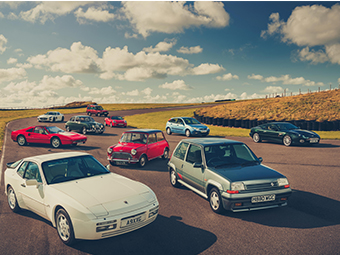 Over the past nine years of hosting its own celebration, Hagerty has raised in excess of £25,000 for inspirational causes. Entries were oversubscribed in less than a week of going live; such is the growing prestige of the event.
The 2015 route was set over 72 miles and took approximately 2 hours. Each entrant was issued with a 'tulip' style road book detailing places of interest to take in along the way, including Towcester Racecourse, Edgcote Battle Ground, the glory of the Cotswolds and arriving at the final destination, Bicester Heritage. Upon arrival at Towcester Racecourse, participants were awarded their very own Rally Plaque.
Angus Forsyth, Hagerty International's Managing Director, said: "We are thrilled with the level of interest in this year's event, with the entry list becoming a Who's Who of popular classics. This shows fantastic support for local organisations that rely on donations to keep up their excellent work in the community. We are passionate about supporting local causes and engaging enthusiasts and through this event we are able to do both."
The rally is a part of Hagerty's wider philanthropic efforts, with this year's event raising £2,500. In previous years, Hagerty has raised funds which were donated to health charities, the local air ambulance services and the Motorsport Safety Fund. This year, the money raised will be donated to the Warwickshire and Northamptonshire Air Ambulance and the Towcester Food Bank charities.