Character is a tricky, possibly even futile quality to try and pin down in cars, which is frustrating because it seems intrinsic to how much we desire, admire and enjoy them.
It is also a wildly, hilariously flexible concept that almost never stands still, and the inanimate objects we so desperately wish to describe as characterful and to humanise, can acquire it with little more than the passage of time.
How much is your car to insure? Find out in four easy steps.
Get a quote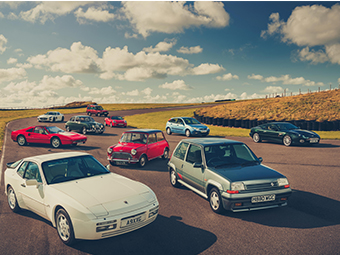 Take something Japanese and built in the 1980s for instance. So frequently derided as white goods in period, as likely to stir emotions as your Beko (or was it Indesit?) tumble drier, to drive one today is to experience qualities and materials and feelings you'll find in no modern car, instantly giving it a certain character and even enjoyment. Nothing has changed about the car itself – a little more rust here and there, perhaps – but what once had no character at all, has since acquired it.
Which is why I'm loathe to ever dismiss a modern car as having no character, because by doing nothing more than parking it for a quarter of a century and then appreciating its differences to whatever is then roaming the roads, you suddenly have yourself a characterful car.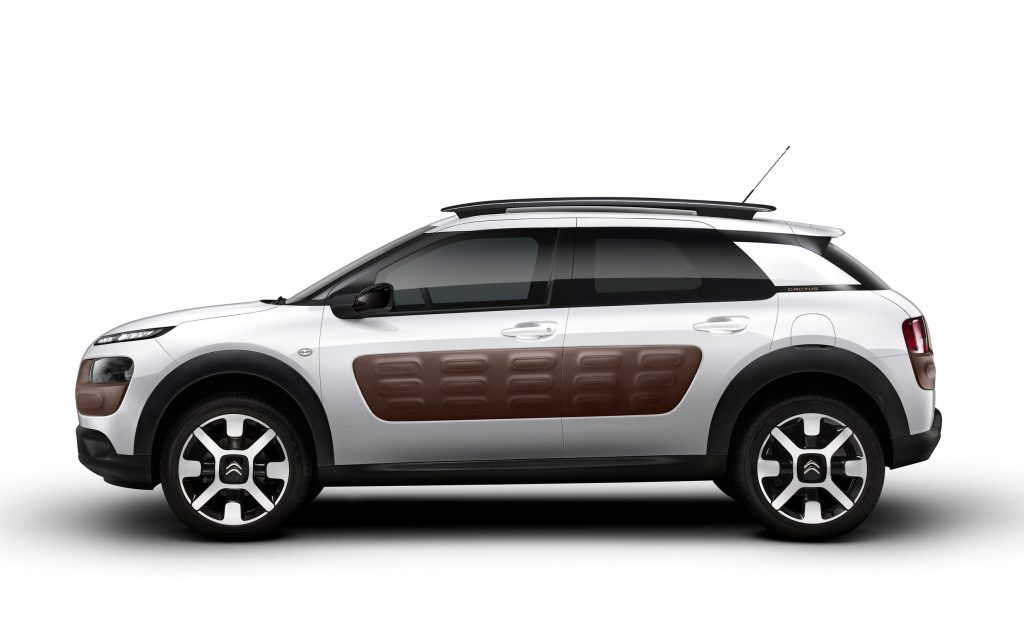 The modern cars that start out characterful though? Those are the future classics, and that's where the Citroën C4 Cactus built between 2014 and 2018 comes in.
The Cactus had character straight off the showroom floor, in a way few other cars of its type can claim. It instantly endeared (some of the) people with its funky, unusual styling, bright colours, and an interior design like nothing else for even close to similar money. It was light and frugal and quite clever, even if it was mechanically unremarkable, with none of the interconnected suspension, or hydropneumatics, or quirky engine and transmission layouts that might have defined previous Citroëns big and small.
Previewed in concept form first with 2007's C-Cactus and then the much closer-to-production Cactus concept of 2013, the C4 Cactus was clearly a car Citroën's designers had fun with.
Its most striking visual element were its 'Airbumps', large plastic panels along the doors and at its corners below the lights, filled with air pockets and designed to shrug off minor bumps such as those you might get from an errant trolley or someone opening their door onto you in a car park. On the launch, we naturally tested this before we'd even driven the things as a line of journalists all deliberately opened their doors onto the Cactus parked alongside.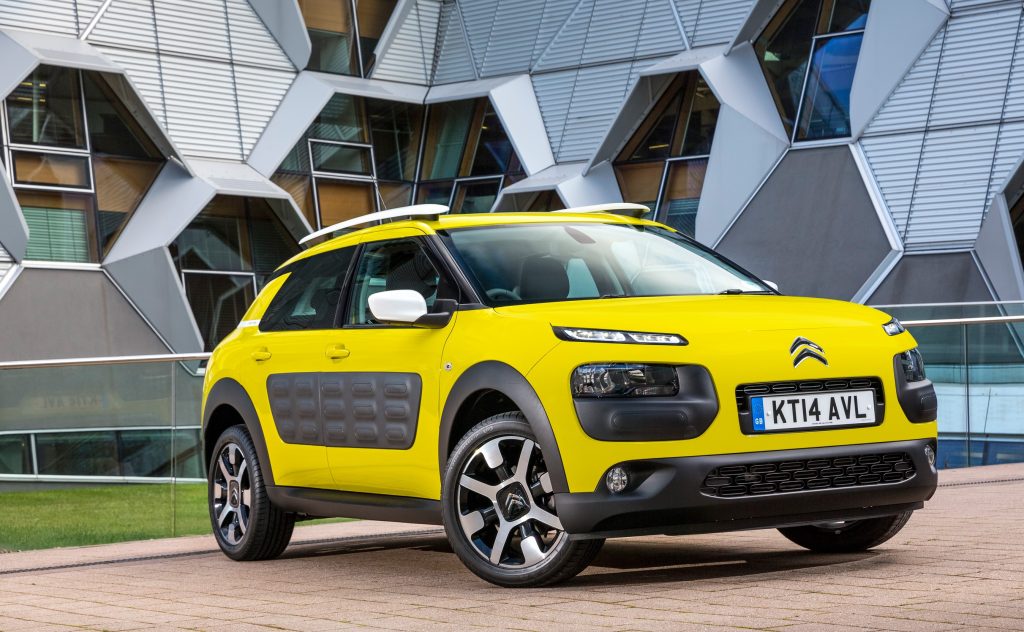 To be truly practical they'd have been more extensive – the idea of covering the entire lower half of the car in them brings to mind that old joke about making planes out of the stuff they use for black boxes – but they certainly made it stand out, and if you got them in brown, the effect was something like a large Cadbury's Caramel bar stuck to each door.
Inside too it was a joy. The seats were wide and flat but soft, like those in Citroëns of old, and if you opted for the automated-manual gearbox, whose controls were on the dash, you even got a centre section for a bench seat effect, like an early 2CV.
The dashboard had a minimalist look, lower and less bulky than most, owing to Citroen fitting the passenger airbag in the roof, while displays were somewhat ahead of their time for such an affordable car, being digital-only. True, this meant heating controls were now touchscreen, an ergonomic mis-step, but no car with a price as low as £11k at the time felt like this. Citroën went for a high-end luggage feel to the fittings too, best expressed by the door pulls, which felt like suitcase handles.
And while it couldn't isolate its occupants from a road surface like an old GS, the Cactus still felt pliant. It didn't have the dynamism of a Focus, but based on a smaller platform than its size suggested, Citroën kept it unbelievably light: a basic Cactus weighed under a tonne and even the heaviest were sub-1100kg. A modern Fiesta is 100-200kg more than that.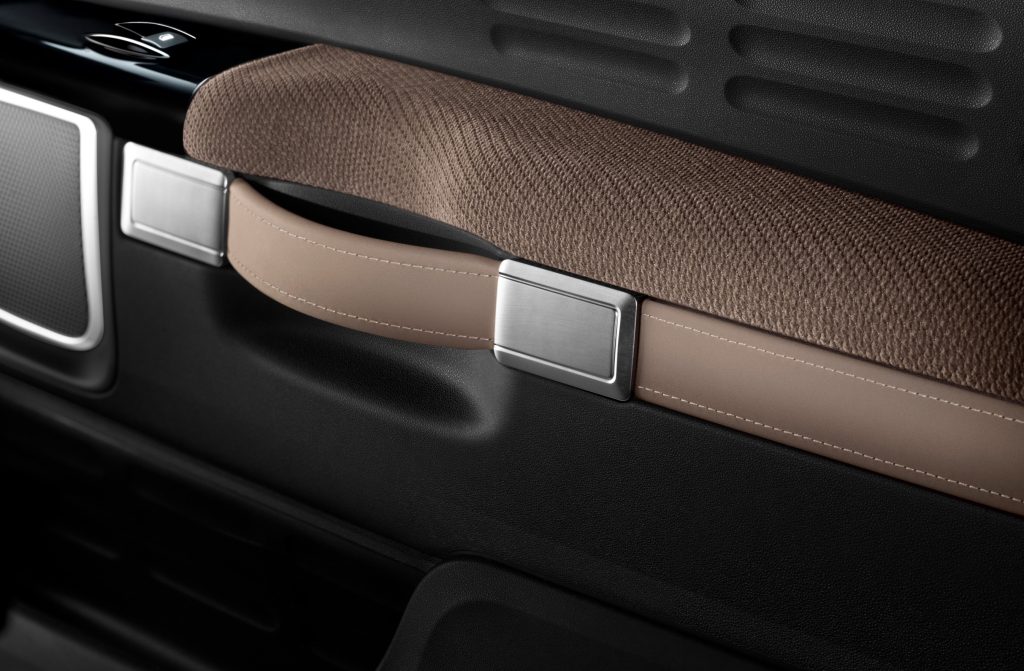 This gave it a light and fairly effortless feel on the road, and made it frugal too, combined with simple 1.2-litre petrol and 1.6-litre diesel engines. The Cactus was good simple fun, if not for frustrated racing driver types, then at least for anyone who appreciates good engineering and a unique feel, and a kick out of simply looking at it when you park and get out.
All these characteristics together – the styling, the cabin, the lightweight chassis, the surprise and delight features, made it characterful in a way a Fiesta or Focus or even plenty of other Citroëns from the preceding couple of decades never were. Which made it all the more baffling when, in 2018, Citroën relaunched the C4 Cactus with notably toned-down styling and more subdued paint schemes – as well as a distinct push upmarket.
It's notable, I think, that you barely ever see these later Cacti on the road. Production lasted half as long as the original and Citroën quickly replaced it with the current C4. Vestiges of the original Cactus, however, live on in cars like the Citroën C3, which retains the Airbumps concept and still stands out visually in its class for it.
Most cars acquire character eventually, but with the C4 Cactus, Citroën created a car that you could buy for very little money that had it right from the off. Give it another ten or twenty years, and it'll fit right in with all those great Citroëns of the past.
Check out the Hagerty Media homepage for daily news, features, interviews and buying guides, or better still, bookmark it.